She-Hulk: Attorney at Law — episode guide, cast, trailer and everything we know about the Marvel series
Bruce Banner isn't the only one turning green.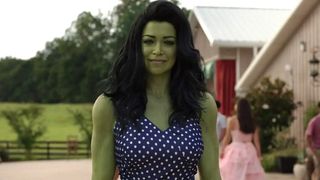 (Image credit: Disney Plus)
It's time for She-Hulk: Attorney at Law and like everyone's original favorite green superhero, "you wouldn't like her when she's angry." Or perhaps you might, because that means some entertaining fight sequences are bound to take place.
Given that most members of the core group of Avengers seem to be passing the baton to new characters, it was only a matter of time before the Hulk would get his turn with his own protégé. Hawkeye found a mentee in Kate Bishop, Black Widow has Yelena Belova primed to replace her and Steve Rogers literally gave his shield to Sam Wilson, aka the new Captain America.
Now it's time for the big guy to help his cousin Jennifer Walters step into her role as the newest Marvel hero. Here's everything we know about the She-Hulk: Attorney at Law series.
She-Hulk: Attorney at Law episode guide
She-Hulk: Attorney at Law has been an exciting ride for viewers. Not only have Wong, Hulk, Abomination and Daredevil made appearances, but something about the way She-Hulk continued breaking the fourth wall is very reminiscent of Deadpool, and it seemed to just work.
The season finale premiered on October 13. Take a look at the series episode guide below.
Episode 1: "A Normal Amount of Rage"
"Jen Walters' world is turned upside down after a freak accident leaves her with superpowers."
Episode 2: "Superhuman Law"
"Jen is hired at a prestigious law firm but must practice as She-Hulk and rep a complicated client."
Episode 3: "The People vs. Emil Blonsky"
"She-Hulk represents Emil Blonsky aka The Abomination, but his parole hearing doesn't go as planned."
Episode 4: "Is This not Real Magic?"
"She-Hulk's new client Wong is suing a magician for unauthorized use of the Mystic Arts."
Episode 5: "Mean, Green and Straight Poured into These Jeans"
"She-Hulk discovers Titania owns the name 'She-Hulk' and is suing her for trademark infringement."
Episode 6: "Just Jen"
"Jen is a bridesmaid in a friend's wedding, a stressful event compounded by uniquely She-Hulk issues."
Episode 7: "The Retreat"
"Jen visits Blonsky's wellness retreat, meets new friends and gets in touch with her inner She-Hulk."
Episode 8: "Ribbit and Rip It"
"She-Hulk represents Leap-Frog who was injured due to a malfunction in his custom-made super suit."
Episode 9: "Whose Show Is This?"
"Jen finds herself in trouble with the law and struggles to pick up the pieces of her life."
She-Hulk: Attorney at Law plot
Marvel describes the plot of She-Hulk: Attorney at Law by stating:
"She-Hulk: Attorney at Law follows Jennifer Walters as she navigates the complicated life of a single, 30-something attorney who also happens to be a green 6-foot-7-inch superpowered hulk. The nine-episode series welcomes a host of MCU vets, including Mark Ruffalo as Smart Hulk, Tim Roth as Emil Blonsky/the Abomination and Benedict Wong as Wong."
She-Hulk: Attorney at Law trailer and promo videos
Hours before the series premiere, Marvel released one more promo clip. Like the Hulk, you don't want to make She-Hulk angry.
With only a few days left before the series premiere, Marvel released a She-Hulk attorney ad on August 15. It's literally a commercial promoting her legal services. Take a look for yourself.
On August 14, Marvel released a clip with some of the major players expected to make a splash in the series. We especially like to see Abomination reenter the canvas.
Marvel isn't short on the promo clips. They released a second one on August 12, and this time it seems She-Hulk is fascinated with Captain America's (Steve Rogers) love life.
On August 12, Marvel released a promo video where She-Hulk can be seen flexing her muscles. Were you able to catch on to all the references she made in the last few seconds to other heroes in the Marvel universe?
As fans of Mark Ruffalo's version of the Hulk, can we just say how glad we are to see him back on the screen? But it's also fun to see Tatiana Maslany get the chance to go green. Check out the She-Hulk trailer directly below.
Thanks to the good people over at Marvel, we another trailer. Take a look.
She-Hulk: Attorney at Law cast
Leading the way as the titular character in the series is Tatiana Maslany. The Emmy-Award-winning actress should certainly be a familiar face for viewers, having starred in the critically-acclaimed series Orphan Black. Additionally, she's been in projects like the Perry Mason series and the 2017 movie Stronger.
Also featured in She-Hulk: Attorney at Law is Mark Ruffalo. Ruffalo is a longtime vet in the MCU, having starred as the Hulk in the Avenger movies. The three-time Oscar nominee has furthermore had roles in The Adam Project, Dark Waters, Spotlight and a host of other films and television shows.
Joining Maslany and Ruffalo are a number of talented actors and actresses including Tim Roth (Sundown), Benedict Wong (Doctor Strange in the Multiverse of Madness), Ginger Gonzaga (Kenan), Josh Segarra (Arrow), Jameela Jamil (The Good Place), Renée Elise Goldsberry (Girls5eva) and Jon Bass (Baywatch).
How to watch She-Hulk: Attorney at Law
She-Hulk: Attorney at Law is a Marvel series airing exclusively on Disney Plus. Those hoping to watch need to have a subscription to the streaming service. The good news is there are options, as Disney Plus is available as either a standalone service, part of the Disney Bundle or included as a feature of Hulu with Live TV.
Get the What to Watch Newsletter
The latest updates, reviews and unmissable series to watch and more!
Terrell Smith has a diverse writing background having penned material for a wide array of clients including the federal government and Bravo television personalities. When he's not writing as Terrell, he's writing under his pseudonym Tavion Scott, creating scripts for his audio drama podcasts. Terrell is a huge fan of great storytelling when it comes to television and film. Some of his favorite shows include The Crown, WandaVision, Abbot Elementary and Godfather of Harlem. And a fun fact is he's completely dialed into the TLC 90 Day Fiancé universe.