SWV & Xscape: The Queens of R&B — release date, trailer, cast and everything we know about reality TV series
A new spotlight on two legendary 90s girl groups.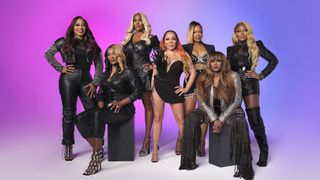 (Image credit: Phylicia J.L. Munn/Bravo)
When it comes to celeb-reality, Bravo has had a history of tapping into '80s/'90s R&B nostalgia going all the way back to 2005's Being Bobby Brown. They are doing so again with the new reality TV series SWV & Xscape: The Queens of R&B.
Both groups have experience on reality TV. Xscape's Kandi Burruss became a cast member on The Real Housewives of Atlanta in 2009. Since then, the singer/songwriter has even gotten a few spin offs. Including limited series Xscape: Still Kickin' It in 2017. Meanwhile, New York trio SWV( short for Sisters With Voices) dabbed in reality television through their 2014 series SWV Reunited on WeTV, which only lasted a season. Interest in both girl groups reached new heights in 2021 during a Mother's Day Verzus battle between the group.
Reaching millions of viewers, Bravo clearly knows gold when it sees it and the two groups will join for SWV & Xscape: The Queens of R&B. The series produced by Mona Scott-Young's Monami Productions (Love & Hip Hop) sees both groups balancing their careers, internal issues and life outside of the music as they tour together. Expect viral drama, fights, laughs and some fantastic musical performances.
Here's everything we know about SWV & Xscape:The Queens of R&B.
SWV & Xscape: The Queens of R&B release date
SWV & Xscape: The Queens of R&B premieres Sunday, March 5, at 9:30 PM ET/PT on Bravo. Later episodes will air every Sunday following at 8 pm ET.
SWV & Xscape: The Queens of R&B cast
Of course, SWV & Xscape: The Queens of R&B revolves around the members of the titular groups.
On the SWV side, the trio consists of Cheryl "Coko" Gamble, Tamara "Taj" George and Leanne "Lelee" Lyons. Collectively, the group has sold more than 30 million records alongside earning three Grammy Award nominations.
Xscape members include Kandi Burruss, Tameka "Tiny" Harris, LaTocha Scott-Bivens and Tamika Scott. Known for being one of the first acts on Jermaine Dupri's So So Def Recordings, the group went on to sell more than 9 million records and earn several Billboard 100 hit songs.
SWV & Xscape: The Queens of R&B plot
Here is the official synopsis from Bravo:
"For more than three decades, SWV and Xscape have reigned supreme with chart-topping hits, showstopping performances, sold-out tours and epic breakups. Although both groups are undisputedly talented and the competition is friendly, the fan-fueled rivalry between the New York new jack swinging trio and the Atlanta hip-hop soul quartet has always been as legendary as the bands themselves.
"Now, as they come together for a spectacular one-night-only concert event, these seven powerful voices must juggle family and career commitments while learning to collaborate with their fiercest competitors. The ladies will take viewers on the ultimate fan experience as they reveal the inner workings of putting on a live concert and expose the discord and complex dynamics of sisterhood within singing groups — such as the bombshell revelation of the Scott sisters' dark secret, which threatens to tear their family apart and drive a wedge between Xscape.
"From wars about set design and setlists, to epic battles over which group should headline, these women don't hold back. Each episode will capture the highs and lows of their journey as they race against a ticking clock to create a career-reigniting concert. But can these strong-willed songstresses ever reach an accord? Not before sharing their most vulnerable moments and venturing beyond business to try healing the personal hurts that stand in the way of their futures."
SWV & Xscape: The Queens of R&B trailer
Below is the trailer for SWV & Xscape: The Queens of R&B released by Bravo:
How to watch SWV & Xscape: The Queens of R&B
SWV & Xscape: The Queens of R&B can be watched on Bravo, a cable channel available on many traditional pay-TV subscription services. The network is available on various live TV streaming services, including Sling TV, Hulu with Live TV, Fubo TV, DirecTV Stream and YouTube TV. It'll be available to stream the next day on Peacock.
Best SWV & Xscape music videos
SWV was known for working with music legends ranging from Wu-Tang Clan, Missy Elliot, Sean Combs and more. Here are some of their greatest hits.
Here are some of their greatest hits from Xscape:
Get the What to Watch Newsletter
The latest updates, reviews and unmissable series to watch and more!
Ural Garrett is an Inglewood,CA-based journalist and content curator. His byline has been featured in outlets including CNN, MTVNews, Complex, TechRadar, LA Weekly and more.