'The Bay' season 3: release date, cast, plot and everything you need to know
published
'The Bay' season 3 sees the popular ITV crime drama returning with a brand new lead.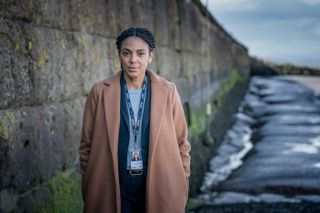 (Image credit: ITV)
The Bay Season 3 has finally arrived on ITV after the huge success of the first two series.
The first two seasons both attracted over seven million viewers, so there's definitely demand for even more, and we can't wait to see what happens in the next installment.
This time around, there's a brand new lead at the heart of the show. Morven Christie (who played DS Lisa Armstrong) has been replaced by a brand new character who has taken over as Morecambe CID's Family Liaison Officer. So, not only have we been treated to a brand new twisty case to get hooked into, but we've also got a new arrival to Morecambe with her own baggage and history to get drawn into, too!
Here's everything you need to know about The Bay season 3...
'The Bay' Season 3 release date
The Bay season 3 began on ITV on Wednesday, Jan. 12 at 9 pm. New episodes will air weekly at the same time in the same place, but the full season has been made available to stream on ITV Hub if you can't wait to binge the series.
The third series was commissioned by ITV's Head of Drama, Polly Hill, who said: "We are delighted with the audiences' response to The Bay and look forward to them meeting DS Jenn Townsend played by the fantastic Marsha Thomason, who joins the team in series 3."
Meanwhile, in the US you can watch the first two seasons of The Bay on BritBox — check out our full list of BritBox shows. Or you can download it from Prime Video.
Who is replacing Morven Christie in 'The Bay'?
The Bay Season 3 will welcome Marsha Thomason (Cobra, White Collar) to the series, where she'll play DS Jenn Townsend, Morecambe CID's new Family Liaison Officer. She has confirmed the news on her Instagram account, revealing she was "so excited to be joining the brilliant cast".
When we spoke to Marsha Thomason, she was thrilled to be taking over from Morven Christie. She said: "This is the best role I've ever played! It gave me the opportunity to be in almost every scene, and to follow Jen in her work life and personal life.
"I've been doing this job for a very long time, and I've never been the lead in anything! So I was ready for this challenge and opportunity", she added.
Speaking about the new character, Catherine Oldfield, Creative Director of Tall Story Pictures and Executive Producer of The Bay said, "Daragh and I always felt that there were so many brilliant stories to be told in the world of The Bay so, after Morven decided to leave the show, we got straight to work finding a new lead actor. From the moment Marsha read for the part we knew it was 'game over' and we'd found our new lead, DS Townsend. We are so excited to see Marsha bring these stories to life."
What is the plot of 'The Bay' Season 3?
According to ITV, the plot for The Bay Season 3 is as follows: "DS Townsend is immediately thrown into the deep end when a body is found in the bay on her first day in the job. She must get under the skin of a grieving and complicated family if she has any chance of solving the premature death of an aspiring young boxer.
"While she's eager to give the family answers, she also needs to prove herself as the team's newest recruit. The pressure is multiplied when her new blended family struggle to settle in Morecambe, proving to Jenn that a fresh start might not be as simple as moving to a different town."
Award-winning writer and playwright Daragh Carville (Being Human, The Smoke, Cherrybomb) returns as writer of the series, with filming expected to start in Spring 2021.
Star Marsha Thomason revealed a few extra details about the case to us in our interview. Talking about her first day on the case, she said: "It starts with a car accident, and then she's straight into a case, so it's a lot to deal with. She's lost confidence in her ability as, even though she's good at her job, she's in a bit of a crisis when we meet her."
What happened in episode one?
DS Jenn Townsend ends up involved in a car crash on her way to drop her children off at school. Right after dealing with the accident, she begins her first day as Morecambe's new Family Liaison Officer by rushing over to a woman who is watching the police recover the body of a boy who turns out to be her son, Saif Rahman.
She is then partnered up with DS Karen Hobson both to support the Rahman family and to begin establishing why someone would want to have murdered Saif. From there, Jenn is formally introduced to the team and launches a full-scale investigation as they try to establish any leads.
Jenn discovers that Saif was in a relationship that his mother didn't know about. After chatting to her, Jenn learns that Saif was involved in a fight outside a new night club in town after some men started hassling him and his girlfriend. Although he's a promising young boxer, his postmortem showed evidence of being beaten with a blunt object, such as a baseball bat.
Police pull the CCTV from outside the club and identify Jordan Rooney from the crowd. When they raid his flat to bring Jordan into the station, they discover a bat in his flat.
Who is in the cast of 'The Bay' Season 3?
Many actors are reprising their roles for The Bay Season 3, with a great line up joining Marsha for the latest case. Here's who's expected to return...
Daniel Ryan (Innocent, Home Fires)
Erin Shanagher (Viewpoint, Peaky Blinders)
Thomas Law (The Worlds End, A Cinderella Story)
Andrew Dowbiggin (Cobra, Coronation Street)
Is there a trailer?
Yes! A teaser for the show was released in early January, giving us a taste of what to expect from the new series.
DS Jenn Townsend is welcomed to the Morecambe department, before revealing the death to the boy's family. From there, the investigation gets underway, and both DS Townsend and DI Tony Manning set about trying to chase any leads on who might be responsible.
You can watch the trailer below:
Get the latest updates, reviews and unmissable series to watch and more!
Thank you for signing up to Whattowatch. You will receive a verification email shortly.
There was a problem. Please refresh the page and try again.