Ex Casualty star Clive Mantle tells court how he was left disfigured after hotel attack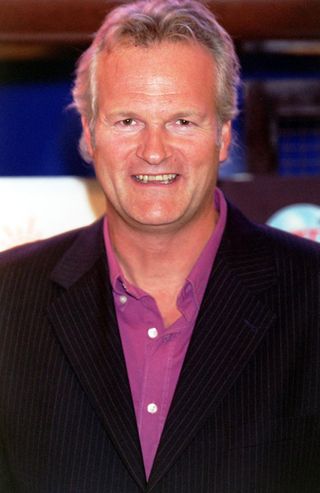 Former Casualty actor Clive Mantle fought back tears as he described to a court how he was left permanently disfigured when he asked two noisy drunks in his hotel to be quiet.
Mr Mantle, 56, who was working locally, lost a substantial part of his ear after he was woken up by Philip McGilvray, 33, and Alan French, 32, shouting in the corridor outside his ground-floor room, Newcastle Crown Court heard.
The actor twice asked the pair to keep quiet and was on his way to the Quayside Travelodge reception to complain when they laid into him, the jury heard.
He recalled in court how he fought back after feeling a surge of adrenaline when his ear was bitten off, but, remembering at that moment the case of farmer Tony Martin, he tried to make his response proportionate.
Mr Mantle lifted his long, grey hair to show the jury his disfigured left ear at the request of the prosecution.
He had been staying in the Travelodge for six nights while working on a touring production at the Theatre Royal in Newcastle and had asked for a quiet room.
He was asleep, alone when he heard loud revelry and laughter outside his room, but eventually it faded.
But three or four minutes later there was 'the most almighty noise' which sounded like it was right by his door, he said.
Mr Mantle, 6ft 5in tall and sporting a large moustache he had grown for his acting part, went to the door in his pyjamas and a T-shirt, and the noise immediately ceased.
He saw French in front of him - 'a much smaller man than me'.
Mr Mantle said: "He looked up at me and it was a look of astonishment in his eyes.
"I must have cast a fairly strange figure. I had a huge moustache, Jimmy Edwards-like, for the part I was playing.
"I said 'Will you shut up, please, I'm trying to sleep.' And I indicated the rest of the corridor were all trying to sleep.
"He made no further noise and I thought 'I have done the trick'."
Mr Mantle went back to bed, but three or four minutes later the noise started again.
He said: "Male One was encouraging Male Two to 'come and look at the old man in pyjamas'."
Asked how he reacted, Mr Mantle replied: "I have been called an awful lot of things in my life.
"I can quite see I looked like a figure of fun. For two hours a day it makes perfect sense to have a great moustache on your face. For 21 weeks I had attracted strange looks wherever I had gone in the country.
"I was not particularly offended, I just wanted them to be quiet and go away."
Hearing more noise, he went to his door and warned them he was going to call security. But after searching his room, he could not find any hotel phone so had to walk to reception.
Mr Mantle had not considered either man posed a threat and said they looked like 'music hall drunks'.
As he walked down the corridor barefoot in his pyjamas and t-shirt to get past them and to security, he realised 'the game had changed'.
The two men stood up to block his path and he did not want to turn back to his room because he feared he might not be able to use his key card quickly.
So Mr Mantle put his hands out to force a gap through them, he said.
"Immediately, my arms were caught," he said. "I had one man on each arm and I couldn't free myself.
"It was then that a tussle, a jostle, and me trying to free myself, turned into a melee.
"I think in total there were about 15 blows, of which only four hurt."
The worst was one to his right temple, he said.
"By this time I'm struggling to escape. I was trying to fight them off as best I could but I had a man on each arm. I was completely hampered."
Eventually he was brought to the ground with a bang, and his face was pressed against the carpet.
French was pinning him down, he said, and McGilvray was to his side.
"The next thing I was aware of was a pain in my left ear which triggered a massive response within me," he said.
"I said 'you are biting my f**king ear'.
"The adrenaline it gave me enabled me to rip my right hand away. The only thing I could do is put my thumb in his eye socket to make him release.
"An image of Tony Martin, the guy who shot the intruders in his house, went through my mind.
"I have got to do enough damage to hurt him, but not so much so I get prosecuted for poking someone's eye out.
"It's the bizarre things you think about at times like this."
Get the latest updates, reviews and unmissable series to watch and more!
Thank you for signing up to Whattowatch. You will receive a verification email shortly.
There was a problem. Please refresh the page and try again.