Coronation Street's Helen Worth: 'Gail's worried the truth will kill Michael'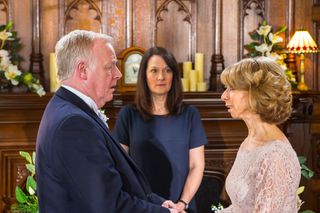 Coronation Street's Helen Worth tells Soaplife that as Gail prepares for her second attempt at marrying Michael, her web of lies may well trip her up...
Is Andy's secret eating away at Gail?
"Yes. She's really struggling with the guilt. Every day it gets harder and harder for her to come clean to Michael [Les Dennis]. She's frightened she'll lose him. There have been so many lies… Not only is Gavin not really Gavin, but also Michael's real son is dead! Michael actually met him and he never realised - and real Gavin died from the very condition Michael had wanted to warn him about. Now Gail's worried the truth about the lies will kill Michael."
No wonder she's worried about wedding day mark two!
"Gail wants it to go well, especially for Michael's sake. But there are so many things going on in the family at the moment she knows there's a good chance something could go wrong."
Such as?
"On her way to the ceremony, Gail finds out that somebody on the Street knows that Gavin is, in fact, Andy [Oliver Farnworth] and she's worried sick Michael will discover the truth."
Will Gail be able to go through with the wedding?
"She'll be so mixed up. The enormity of the lie may well hit her and she might realise she can't go through with it while she's keeping something so massive from Michael. The best thing she could do is sit down quietly and tell him everything and then hope he still wants to marry her. The only alternative is to go through with the wedding and wait till he's well enough to tell him the truth. But then he could well find out the truth much earlier than that!"
Coronation Street, ITV
Get the latest updates, reviews and unmissable series to watch and more!
Thank you for signing up to Whattowatch. You will receive a verification email shortly.
There was a problem. Please refresh the page and try again.