Dumped Caz is 'capable of anything', warns Corrie star Faye Brookes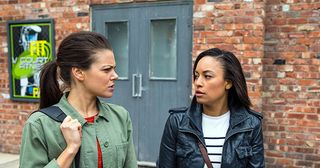 (Image credit: Joseph Scanlon)
Coronation Street's Kate Connor dumps girlfriend Caz Hammond after finding out the truth about her injury and why she's left the Army...
When Kate Connor discovers just how badly her fiancee Caz Hammond has deceived her, she sends her packing. But Caz doesn't go far, as Corrie's Faye Brookes reveals to Soaplife.
Kate Connor finally sees her fiancee Caz's true colours – and they're dark and ugly.
Kate comes home to find an army welfare officer grilling Caz and it's revealed that Caz is awaiting a court martial for fighting with another soldier and has been lying to Kate all along. She's not even injured her leg!
"It's the final straw for Kate. She feels very hurt and betrayed by Caz's deception," says Faye Brooks, who plays heartbroken Kate.
"Kate already gave Caz another chance, remember, and invested everything in the relationship. Now they're finished."
Can Caz change Kate's mind? "As far as Kate's concerned it's definitely the end. Caz [Rhea Bailey] has lied to her before so how can Kate trust her? Maybe all this is a blessing in disguise for Kate… She wasn't ready for marriage."
How does she feel when Maria Connor says Caz can stay with her? "First of all, I think she's questioning Maria's loyalty to the Connors. Why is Maria [Samia Ghadie] taking Caz's side? Just when Kate thinks that Caz is no longer an issue in her life she finds out that she is only down the street!"
Are things going to get ugly for Kate and Caz? "Oh, I think Caz is capable of anything! That's what is slightly scary and puts Kate on edge. Caz is a very clever girl."
Where does this leave Kate and Sophie Webster? "I'm hoping that Sophie [Brooke Vincent] and Kate will become better friends now. That's what they were first and foremost, but Caz wasn't happy about that and it affected Kate and Sophie's relationship."
Would Kate and Sophie make a great couple? "I think they would, but then I also love their friendship. Maybe it can be something that we will see unravel in a 'will they won't they?' situation."
Kate's wedding day keeps eluding her! Would you like for her to get married? "I would love that purely just for the fact that it could go down in history as the first ever lesbian soap wedding!"
Coronation Street, ITV
Get the What to Watch Newsletter
The latest updates, reviews and unmissable series to watch and more!