Will Daniel survive his drugs overdose? 'Everything is imploding!' says Corrie's Rob Mallard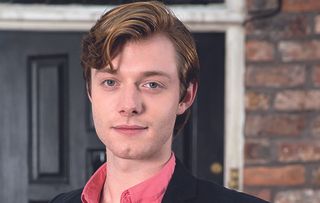 (Image credit: Joseph Scanlon)
Now that the truth is out, Daniel feels depressed and powerless and he turns to drugs, reveals Corrie's Rob Mallard
Daniel Osbourne pushed his father Ken down the stairs and now that he has been found out he really is at an all-time low. "Everything is imploding – his shame over Ken, his relationship with the rest of the Barlows, his relationship with Sinead… And then there are his feelings about his mum, Denise, being back in his life," actor Rob Mallard told Soaplife.
Could it be that Daniel feels there's only one way out?
How does Daniel feel? "He's full of remorse, regret and shame. The attack on Ken [William Roache] wasn't pre-meditated, it was a reaction to Ken's arrogance. Ken had taken control of Daniel's life and that was enough to trigger that red mist for Daniel."
Was he ever tempted to confess? "Yes, but Daniel has always dealt with half-truths and had secrets. He is very good at protecting himself so confessing would have been like ripping up his own work."
What about his relationship with Sinead? "The reason Daniel is so attached to Sinead [Katie McGlynn] is that she got further in than anybody else so he's not going to let her go easily. Daniel trades in secrets – he and Sinead have got secrets between them that they've kept from each other and others that they've revealed."
What's it like for him to have his mum back in his life? "Devastating. She has come back into his life like a wrecking ball. Daniel has been in charge of the narrative of his life because nobody else knows it but now his mum has come back, with her version of his stories so he has lost a lot of power."
He takes a lot of drugs… Does he intend to kill himself? "He is undoubtedly depressed and not feeling anything so he takes the drugs in order to feel something. It comes as the result of having been riled by Tracy [Kate Ford] and he just goes too far."
Are you glad Daniel's secret is out in the open? "Yes because it means that I am not going to accidentally let it slip! And from the character's perspective I am glad it is out – it's interesting that his aspirations have always been educational yet now he is working in a back street bistro and has no idea where he's going to go."
Can the Barlows ever be reunited? "Yes, but they need a common cause, an equally powerful threat to bring them together – a bit like the Sopranos, but Weatherfield-style. As a unit they could be very powerful, but they need a common enemy."
Coronation Street, ITV
Get the What to Watch Newsletter
The latest updates, reviews and unmissable series to watch and more!