Zeedan's shock proposal is soon followed by a family bombshell, reveals Qasim Akhtar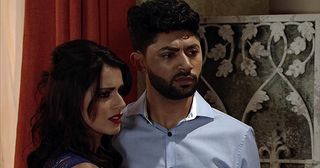 A family crisis causes Zeedan Nazir to hear wedding bells, Qasim Akhtar tells What's On TV
Zeedan shocks himself when he proposes to girlfriend Rana in the spur of the moment. But at the couple's engagement party, a heartbroken Yasmeen drops a bombshell. Qasim Akhtar tells What's On TV.
Tell us about Zeedan's proposal… "Zeedan even shocks himself when he proposes but, family problems aside, he feels it's the right thing for him to do because he doesn't believe in sex before marriage. He sees this as the next step in their relationship. Rana [Bhavna Limbachia] accepts immediately."
What happens at the engagement party? "Zeedan reads out a poem to Rana then says a massive thank you to his grandparents for always being there for him. This breaks Yasmeen's [Shelley King] heart - she has just found out that Sharif's been cheating on her. She then drops this bombshell in front of everyone."
Wow! How does Zeedan react? "With rage. Zeedan doesn't want to believe it. He keeps telling himself it's not true. He can't come to terms with it because he always regarded Sharif [Marc Anwar] as perfect."
How does he feel when he realises Alya has known for ages and blackmailed Sharif? "It's as bad as him finding out about Sharif. He feels betrayed because he and Alya [Sair Khan] have had such a bond. It's on a par with what his granddad has done. Alya did it for the advancement of her career and Zeedan realises this but it still it hits him hard and he can't forgive her. Sharif and Alya are now nothing to him."
Will these revelations will change Zeedan? "Totally. Looking at the things that have happened to Zeedan and what he has been through, it has to change him. Maybe for the better, maybe for the worse…"
Coronation Street continues on ITV1 on Monday at 7:30pm
Get the latest updates, reviews and unmissable series to watch and more!
Thank you for signing up to Whattowatch. You will receive a verification email shortly.
There was a problem. Please refresh the page and try again.