Is EastEnders Dot Cotton about to die? Find out her future…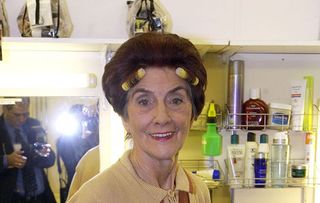 June Brown, who plays Dot, turns 92 next year
June Brown will have been playing EastEnders' favourite chain-smoking gossip Dot Cotton for 33 years this year, and at 91-years-old, you might think it's about time for June to hang up her stockings and retire.
But we're pleased to say, that's not looking likely. Nope, Dot is not going to be killed off or die anytime soon!
We might not have seen her too much on Albert Square in the recent weeks, but we can reveal that June has signed a new contract to keep her on the BBC soap for the foreseeable future.
"BBC bosses know that June has a huge fanbase and she's a big draw for older viewers," a source told The Sun.
"She's a real character and the rest of the cast and crew love her too.
"They want her to be on the show as long as she feels comfortable acting so are delighted that she's agreed to renew her contract.
"June finds working regularly keeps her feeling young at heart and enjoys the job immensely."
So it looks like all those fags aren't going to take her away from us any time too!
Good on you, June!
Although the majority of the UK think about retirement around the age of 65, for June, it hasn't even crossed her mind.
Shortly before she turned 90, June revealed "I can't afford to retire.
"I never had the money to start a pension — I didn't start to make any real money until I was 58 — and now it's not worth much.
"I've always been afraid of being poor when I'm old.
"It's a dreadful thing to be strapped for cash when you are elderly.
"It's awful when you're young, too, but you always have hope."
However, despite opening up about her money woes, June also admitted to The Sun that she would "bored" if she stopped working.
"As long as I am capable of working, and can learn lines and move around, I will carry on.
"I'd be utterly bored if I stopped."
In the past, June has revealed she keeps fit by doing Tibetan exercises - a cross between yoga and Pilates - daily.
June, we salute you!
Thank you for signing up to Whattowatch. You will receive a verification email shortly.
There was a problem. Please refresh the page and try again.