EastEnders' Shane Richie: 'My and Jessie's play is funny, but it's like laughing at a funeral!'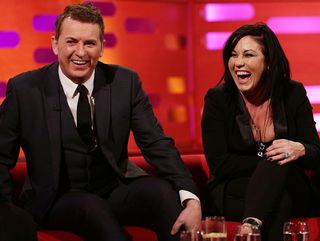 (Image credit: PA WIRE)
EastEnders (opens in new tab)' Shane Richie tells Soaplife about his deadly new double act with Jessie Wallace.
Not only do Shane Richie (opens in new tab) and Jessie Wallace (opens in new tab) work together as Enders' Alfie and Kat Moon, but also they're currently on stage together, touring in the dark comedy thriller, The Perfect Murder as Victor and Joan Smiley… And, in this production, he wants to kill her.
"Ultimately, how it happens is really interesting," Shane says. "Jessie and I have worked together for 14 years and, although we've done a lot of theatre separately, this is the first time we've ever done any together. Joan and Victor are nothing like Kat and Alfie, though…"
Are you anything like Victor?
"Nothing like him! It's interesting to see how the audiences react to him – some people root for him while others root for Joan."
We bet the chemistry between you and Jessie shines through…
"I think it does. We know each other's strengths and weaknesses so we kind of prop each other up when we need to and step away from each other when we need to."
Has it been difficult for you and Jessie to get into another pair of characters' heads?
"It has been a different dynamic with a different set of rules. We both know Kat and Alfie inside out, but Victor and Joan are very alien to us. We'll probably find out stuff about each other as actors from doing this, which will be really interesting because we've never done live theatre together before."
You're good mates, though, aren't you?
"Great mates. Best mates. We're on the phone to each other every day."
Who's the biggest prankster?
"Jessie would say me, but that's not always the case. We're always pulling pranks on each other, but there's none I can repeat!"
What do you especially like about performing in the theatre?
"I miss the butterflies when I'm not doing theatre. A lot of people in the business don't like that, but I love that thing of not being sure if you're going to pull it off or not."
You're a big fan, aren't you, of author Peter James (opens in new tab), who wrote A Perfect Murder?
"I am. I'd read several of his books before I knew about The Perfect Murder. I had the honour of meeting Peter and we had dinner together, not thinking for one moment I'd be doing one of his pieces on stage. There's a lot of love and respect out there for him as an author. It's slightly naive to think people will only come along because they're EastEnders fans. They're coming to see a great story. Peter's not a multi-million-selling author for nothing."
The play also has its funny moments, doesn't it?
"The straighter we play it, the funnier it is. When I say 'funny' I mean 'uncomfortable funny'. It's like laughing at a funeral. It's dark and macabre."
Find out where you can see The Perfect Murder on tour here. (opens in new tab)
Get the latest updates, reviews and unmissable series to watch and more!
Thank you for signing up to Whattowatch. You will receive a verification email shortly.
There was a problem. Please refresh the page and try again.