Keanu Taylor is in danger when a big robbery goes wrong in EastEnders!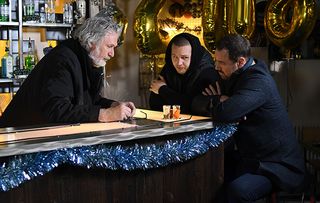 (Image credit: BBC / Kieron McCarron)
Keanu Taylor has been signed up by hard man Aidan Maguire for his big robbery. But it goes very wrong reveals EastEnders actor Danny Walters…
It seemed up until now that Keanu Taylor was the member of that family with his head screwed on right. But now Keanu has got himself mixed up with Aidan Maguire and his bunch of thieves… and he is way out of his depth.
What's the story?
"We will see a different side to Keanu," actor Danny Walters told Soaplife. "At home he knows his role and his status. But out of the house, among these men, he becomes vulnerable and scared of the dangers involved with this job of Aidan's."
What's happening in EastEnders? See the latest soap storylines
Danny Walters reveals to Soaplife what happens when Keanu Taylor gets caught up with a dangerous gang in EastEnders
Soaplife: So why has Keanu agreed to do this job with Aidan?
Danny Walters: "His only motivation is to help his family. Keanu's objective throughout the whole of this job is the money to provide food for his family. He wants them to feel normal."
SL: But getting involved with Aidan's gang has to be a big mistake?
DW: "Bless him, he's not the most intelligent of lads. We've seen that he struggles with reading and writing and he's found it hard to get a job. He should steer clear of Aidan and his gang but he gets in too deep…"
SL: Why doesn't he tell his mum Karen about it?
DW: "Keanu thinks a lot about what Karen says and I think, for the protection of his mum and the family, he doesn't want anyone to know what he's doing. The more people who know, the more they could be in danger. It's a case of ignorance is bliss."
SL: His sister Bernadette clocks on, though…
DW: "Yeah, she sneaks around and that's when the stakes become greater for Keanu because now his sister is involved. Keanu is very protective of his family so once Bernadette is involved that gives him more fear with this job."
SL: What's it been like working with Patrick Bergin who plays Aidan?
DW: "The way he is on set, the way he holds himself and his professionalism – I have massive respect for him. Working with him is an honour."
SL: Has everyone been asking him what it was like to kiss Julia Roberts in Sleeping With The Enemy?
DW: "I think people have wanted to, but everyone is scared to! He is about seven foot tall – he towers over everyone. He has a great presence."
SL: We know Aidan's robbery goes wrong… What happens?
DW: "I think a lot of the characters involved are in too deep, Keanu being one of them. So there are a lot of things that go wrong… There are emotional scenes, strong scenes. Definitely one to watch!"
SL: Were you aware of the fan reaction to Keanu's scenes with Ben Mitchell? #Beanu
DW: "Beanu! It sounds like a really exotic fruit. I actually never thought they might get together. But I guarantee there are fans who probably are still convinced that it's going to happen. They're rooting for it!"
SL: Keanu and Ingrid are cute, or is that all over?
DW: "I think that's still brewing. It's a sweet relationship but Keanu's too busy being a dangerous man right now!"
Get the What to Watch Newsletter
The latest updates, reviews and unmissable series to watch and more!