Emmerdale's Danny Miller: Paddy is shot when love turns to hate for Aaron and Robert!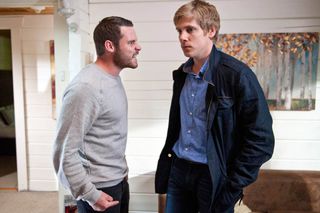 Aaron takes revenge on Robert… but a fight, a kidnapping and a shooting leaves lives in ruin, Emmerdale's Danny Miller tells Soaplife…
It crunch time for Aaron and Robert… All that passion turns to hatred when Aaron realises Robert tried to kill Paddy, the man he sees as a father. Aaron wants revenge, but Robert turns the tables on his lover.
"Aaron wants to let Robert have it," says Danny. "But Robert knocks Aaron unconscious, which gives him some thinking time - and that's a very dangerous thing for someone like Robert to have…"
Does Aaron realise Robert is bad news?
"He's fully aware he isn't the most honest or loyal of people, but he doesn't see Robert [Ryan Hawley] for who he really is. That's what Paddy wants him to see. But, at first, when Paddy tells Aaron that Robert tried to kill him in the grain pit, he thinks Paddy's trying to scare him."
But Aaron sees how scared Paddy is, doesn't he?
"Yes. Aaron sees the fear in Paddy's eyes and he realises he's telling the truth. Suddenly, he realises Robert represents everything he detests and he doesn't want to stand for. He's truly shocked and can't believe how stupid he's been."
Does Aaron listen to Paddy when he warns him to steer clear of Robert?
"No, it's like rebelling against your parents. He knows Paddy's right, but he doesn't want to admit it to himself. Aaron's dead set on getting revenge for Paddy [Dominic Brunt]…"
How?
"Aaron's being mentored by Chrissie's dad, Lawrence [John Bowe], who invites him on a weekend conference. This would give him plenty of time to spend with Robert and execute his plan."
But it goes wrong, doesn't it?
"Paddy finds out and he's desperate to stop Aaron from going because he knows it will end badly. So Paddy tells Lawrence that Aaron's a psychopath, who's been in jail, which freaks Lawrence out. But Aaron won't be stopped. He books a remote lodge and asks Robert to meet him there."
What happens at the lodge?
"Robert forces himself on Aaron, but Aaron can't bring himself to kiss him. Aaron wants to know what happened to Paddy and Robert finally admits what he did. It dawns on Aaron that Robert might have lied about Katie [Sammy Winward] and Robert finally reveals that he pushed her. Aaron records all of this…"
But?
"They have a fight and Robert knocks Aaron out and ties him to a radiator. Then he leaves him there…"
He comes back with a gun, though - and Paddy is shot!
"I can't tell you any more. You'll have to watch to find out what happens. I can reveal that, back at the village, Chrissie [Louise Marwood] finally finds out about Robert and Aaron's affair."
So there's more drama to come?
"Oh, yeah - and it will be about Chrissie's breakdown as much as Aaron's. That will cause some chaos!"
Emmerdale, ITV.
Get the What to Watch Newsletter
The latest updates, reviews and unmissable series to watch and more!