Kim Tate is heading back to Emmerdale - but who is the legendary character and what makes her so brilliant?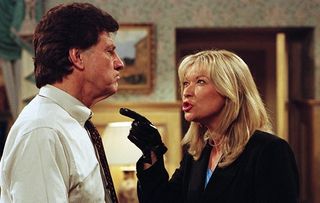 (Image credit: ITV/REX/Shutterstock)
Here's Kim in 1997 returning from the dead!! And, almost 20 years after she left Emmerdale, Kim is set to make an explosive comeback at a Home Farm masquerade ball airing in October.
It's the news that soap fans have been waiting for - Kim Tate is finally returning to Emmerdale.
Claire King, who plays Kim, said about the big reveal: "As a Yorkshire lass myself, I'm absolutely thrilled to be back in Yorkshire for a fun-filled cameo, once again reaping havoc in the Dales!
"As there are still some familiar faces from 20 years ago it's felt like coming home and I couldn't have had a more lovely welcome from such a talented cast and crew, so thank you everyone! It's literally been a blast!"
But with it being nearly 20 years since we last saw her in the Dales, here is a quick reminder of why Kim went down in soap history as one of the best Emmerdale characters ever…
Who is Emmerdale legend Kim Tate?
Kim was played by Claire between 1989 and 1999 and quickly became a firm fan favourite with her money-hungry schemes and man-eating ways. Claire went on to appear in shows like Bad Girls and Coronation Street following her departure from the Dales and even enjoyed stints in reality TV shows like Strictly Come Dancing and Celebrity Big Brother.
What made her such a brilliant villain?
During her decade on the show, Kim cemented herself as one of the best soap "super bitches" ever to grace our TV screens, and here's why…
Her numerous affairs
After marrying Frank Tate, who was old enough to be her dad, Kim had her eyes firmly on his wallet. But when she became friends with Neil Kincaid, who was much closer to her in age and also shared her love for horses, the pair started a secret relationship. Frank later found out and this lead to the pair's divorce.
Kim and Frank later married for the second time in 1994 but once again she had an affair. This time with Dave Glover. Frank worked out that his wife was playing away again, leading to him hiring a private detective to catch them out.
Faking her own death
After Dave died in a house fire, Kim disappeared from the village, only for the police to find someone matching her description dead behind the wheel of a car. Frank went to identify the body - but little did he know Kim had framed him for her murder and he soon found himself in jail. Frank was then in for an even bigger shock when Kim reappeared on his doorstep just as he got out of prison!
Watching Frank Tate die
The shock of Kim's return from the "dead" lead to Frank having a fatal heart attack, but instead of helping her husband, Kim stood back and watched her him die, infamously telling him: "You're a dinosaur Frank, and we all know happened to them."
She then went down in soap history when she took out her compact mirror, used it to check he had stopped breathing, before cooly reapplying her make up and leaving.
Almost killing Kathy Brookman
After inheriting half of Home Farm in Frank's will, Kim started a relationship with Steve Marchant who she later went on to marry. The pair struggled for cash and started stealing horses to sell for a profit. But one day Steve ran Kathy over with the horse box, and despite being involved Kim later convinces Kathy that Steve was entirely to blame.
Attacking Chris Tate
The police soon realised that scheming Kim wasn't a reliable witness in Steve's trial for Kathy's hit and run, and she decides to flee the village with son James.
Before she went, Kim went to see Chris to get her hands on some cash. When he wouldn't hand it over she tried seducing him, and when that didn't work, she hit him over the head with a paperweight, tipped him out of his wheelchair and poured whisky over him before fleeing in a helicopter waiting outside Home Farm.
Emmerdale archive pictures: ITV/REX/Shutterstock
Get the latest updates, reviews and unmissable series to watch and more!
Thank you for signing up to Whattowatch. You will receive a verification email shortly.
There was a problem. Please refresh the page and try again.