Are Zara and Daniel over?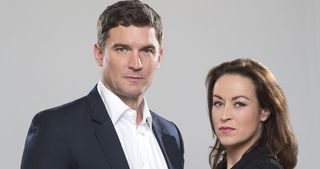 (Image credit: BBC/Gary Moyes)
When Zara tells Daniel that Joe's on a special diet as part of Michael's research project, he tells her the whole thing's a load of hogwash! The argument quickly escalates and Zara blurts out that maybe Daniel caused the damage to Joe by shaking him as a baby? Zara wishes she hadn't said anything but Daniel suggests that Joe is not the problem, Zara is. She walks out and drives straight over to Michael's place.
Rob takes a new PC, Kylie Green, out on the beat, looking for a door to door thief. They get lucky when they spot the suspect and Rob congratulates Kylie for her part in catching the criminal.
Ayesha ushers Emma and Niamh into a dark room, she's going to tell their fortunes. She tells Emma that it's time to rekindle an old flame and it's clear that she means Howard. Niamh is next, and she breaks down about the rift with her family. Ayesha empathises - she's sad about the rift in her family, too. Soon all three women are hugging each other.
Get the latest updates, reviews and unmissable series to watch and more!
Thank you for signing up to Whattowatch. You will receive a verification email shortly.
There was a problem. Please refresh the page and try again.