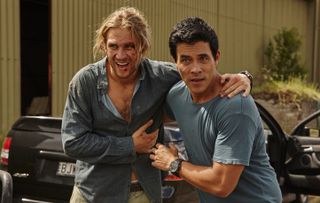 Justin comes to the rescue when Ash is beaten up by Zannis
Ash stumbles out of a garage after being beaten up by Zannis and his thugs. With severe injuries and unable to drive, he calls on Justin for help. Justin races to Ash's aid and takes him to the hospital. However, with Ash being so eager to help Tori, will it affect his relationship with Kat again?
At the hospital, Mason is awake, but he begins to panic when he can't feel his legs. Later, Justin and Raffy join Tori at the hospital as Mason waits for results on if he'll ever walk again. The family try to cheer him up but Mason's mind is elsewhere. Will it be good news for Mason?
Kat catches Robbo leaving a farewell note, at her caravan. He explains that he's leaving for the city, so he can find answers about his identity and start a fresh life. Kat tries to persuade him to stay, but Robbo feels judged by the Summer Bay community and wants to leave. Kat understands his decision and he makes his way to say goodbye to Roo and Alf.
However, their goodbyes are interrupted by Raffy who's put herself in danger. As Robbo springs into action and impresses the locals, will his heroic display place him in a different light with the Summer Bay residents?
Finally, Brody sees a familiar face in rehab. Will this old friend hinder his road to recovery?
Tobi Oredein is an award-winning women's lifestyle journalist, media entrepreneur and international public speaker based in London, who focuses on race, feminism, beauty politics & popular culture. Tobi has been commissioned by Buzzfeed, British Glamour, Grazia, Elle UK, Fader, The Debrief, The Independent, The Pool, Stylist, Vice and others. She has also interviewed public figures such as Ryan Coogler, Ava Duvernay and Sir Trevor McDonald.
Get the latest updates, reviews and unmissable series to watch and more!
Thank you for signing up to Whattowatch. You will receive a verification email shortly.
There was a problem. Please refresh the page and try again.