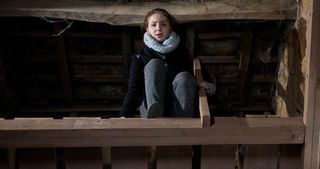 *Second episode*
Belle's been found in the derelict building at Wylie's Farm, but if Lisa and Zak are hoping to scoop her up in their arms and take her back home they are in for a shock. The teenager is a few floors up and in danger of falling – in the same way that Katie did. As everyone looks up at the teen, worried about what she might do, Lisa has an angina attack. Meanwhile, Harriet draws on her old police training in an attempt to talk Belle away from the edge. But as sirens signal the arrival of the emergency services, Belle loses her footing!
Chrissie invites David and Alicia over for dinner, but David's not looking forward to it. But what the Metcalfes don't realise is that Chrissie has a proposition for them – she plans to open a franchise of David's shop in the village, but at Home Farm…
In the Woolpack, Emma doesn't react too well to the news that James wants a divorce. A short while later in the loo, Emma takes her anger out on the paper towel dispenser! Meanwhile, Adam vows to support Andy, Pearl has a guilty secret and Sam's caught in the middle when Tracy gets into a row in the pub.
Get the latest updates, reviews and unmissable series to watch and more!
Thank you for signing up to Whattowatch. You will receive a verification email shortly.
There was a problem. Please refresh the page and try again.