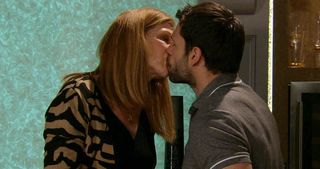 Having drunkenly clambered into Lawrence's digger and done some damage at the Mill, Bernice is hungover and ashamed of herself, but she's not about to admit she was behind the incident! Rakesh blames Ronnie, but Ronnie has a hunch it was Bernice. The heartbroken mum, who's recently found out hubby Lawrence is gay, is about to confess when her ex, Andy steps in and pretends it was his fault!
When grateful Bernice makes to kiss him, will Andy, who's now going out with Bernice's stepdaughter Chrissie, reciprocate? And how will Bernice feel when Chrissie turns up at Home Farm?
Holly returns from town where she's been enjoying her wages, only to be searched for drugs by her mum. Moira's pleased when she finds nothing but a pair of tickets for a gig on her drug-addict daughter. But when Holly's alone she can't resist a look at her purchase – a wrap of heroin…
Tracy urges Belle to throw a symbol of Bailey on the bonfire, to 'cleanse' herself of the married man.
Get the latest updates, reviews and unmissable series to watch and more!
Thank you for signing up to Whattowatch. You will receive a verification email shortly.
There was a problem. Please refresh the page and try again.