Bob and Brenda try to get the trust back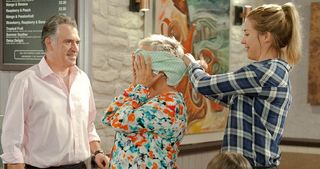 Since Bob went to prison, his relationship with Brenda has suffered for all that he put her through. Bob is worried that Brenda wants to leave him, and tells her the worst thing about being banged up was being away from her. When April suggests they do a trust exercise she learned at school, Carly joins in and duly blindfolds Brenda, who's told to fall backwards and trust that her husband will catch her. But will Bob manage it?
Worried for Vanessa, Rhona tells Adam they must keep an eye on her as she's admitted she's having trouble bonding with the baby. When he approaches Vanessa, will the vet be ready to chat?
News hits that the doctors are planning to wake Robert from his induced coma. Aaron's uneasy at the prospect, and Andy is furious. He can't bear to see how anxious Victoria and Diane seem about Robert, and announces how he wishes the person who shot at his brother had done a better job!
All the Johnny drama is hitting Laurel hard. Remembering the young son she and Ashley lost, the pair share a moment by Daniel's grave.
Get the latest updates, reviews and unmissable series to watch and more!
Thank you for signing up to Whattowatch. You will receive a verification email shortly.
There was a problem. Please refresh the page and try again.