Casualty spoilers: Iain's death wish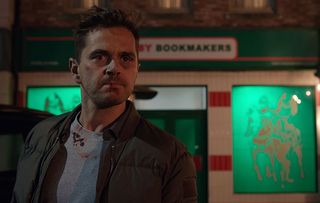 (Image credit: BBC)
Casualty paramedic Iain Dean spirals into self-destruction. Charlie reveals his marriage to Duffy is over. Battle lines are drawn between Marty and Jade
Iain's dangerous game
Paramedic Iain Dean's fragile mental health takes a disturbing, self-destructive turn this week. Since the deaths of suicidal patient Mia and his colleague Sam Nicholls last summer, Iain's been struggling with severe post-traumatic stress disorder (PTSD).
Painfully aware he needs help, Iain's on a waiting list for counselling but has turned to booze to help numb the trauma. His drinking, however, is causing problems! Before Christmas Iain (Michael Stevenson) kissed junior paramedic Ruby Sparks and was so mortified afterwards he called in sick and has been at home, depressed ever since…
This week Mia's boyfriend Alasdair 'Base' Newman calls on Iain clutching a bunch of flowers and an oversized teddy, as he wants to mark Mia's birthday. Unable to refuse, Iain helps Base pay tribute to Mia at one of her favourite places before insisting they head to the pub. Recovering drug addict Base focuses on staying clean, while Iain's determined to get drunk!
When Gregor, another punter accidentally pushes past Iain, he follows him into the pub toilets demanding an apology. Iain then initiates a fight but stops defending himself once Gregor starts punching him back! The brawl continues into the pub and soon police and paramedics, including shocked Ruby, are at the scene treating bloody-faced Iain, shaken Gregor (Osi Okerafor) and his colleague Caitlin (Kim Allan), who was inadvertently injured trying to stop the punch up.
Back at the ED Iain plays innocent, letting Gregor take the blame for the violent bust-up. Base, realising Iain's worryingly reckless symptoms are similar to Mia's before her suicide, confronts his friend, but is left shaken by Iain's reaction.
Does Iain have a death wish?
Charlie and Duffy's soft Chexit gets underway
Newly separated Charlie and Duffy Fairhead agree to keep their marriage break-up a secret and get on with the business of saving lives. But that's easier said than done…
When nurse Robyn Miller gifts the couple a handcrafted doily but later finds it in the bin, she starts asking questions. Charlie, unable to keep a lid on his heartbreak, opens up to Robyn that he and Duffy are parting ways.
Will naturally chatty Robyn be able to keep Chuffy's secret?
War on the wards!
Junior nurses Jade Lovall and Marty Kirkby have been getting on like a house on fire since he covered for a prank she pulled a few weeks ago. This week, however, their infant relationship sours when Marty refuses to help Jade after she glues a patient's head to a pillow!
Marty declares he's fed up of Jade's messing around and wants to get serious about his career. Something that doesn't go unnoticed by senior nurse Louise Tyler, who recommends him for an observational shift with the paramedics. Marty's delight is short-lived however when he gets home to his messy flat share and finds a familiar face orchestrating a house party!
Also this week…
Elle Gardner channels Connie Beauchamp as she steps into the role of acting clinical lead. Elle's dressed for the part and not afraid to pull rank – as former acting clinical lead Ethan Hardy soon discovers! Will Elle's methods backfire when she tries them with the rest of the ED staff?
Ruby is left horrified when a patient takes his injuries into his own hands.
Louise begins to despair of Marty and Jade and resorts to a tougher approach.
And Ethan gives injured paramedic Iain the star treatment when he's admitted to the ED. But will Iain face up to his actions and their potentially devastating consequences for other people?
Get the latest updates, reviews and unmissable series to watch and more!
Thank you for signing up to Whattowatch. You will receive a verification email shortly.
There was a problem. Please refresh the page and try again.