Coronation Street spoilers: Adam Barlow has a surprise for Sarah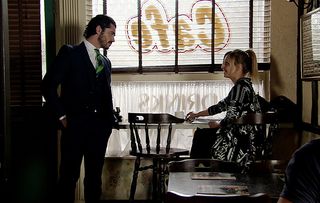 Adam Barlow tells Sarah that he's refused to act for Nick
Sarah's shocked when Adam Barlow reveals that he's refused to act for Nick and has spoken to Peter who is going to talk to Carla to get official permission to put her in charge!
When Tracy tells David she gave Natalie a lift, he offers her a tenner in return for her address. Later, David and Shona set off in search of Natalie. The pair arrive at her flat, but they're gutted when Natalie's flat mate reveals that she's cleared out her stuff and gone.
As Tim accuses Geoff and Yasmeen of Tiny's disappearance, Sally reveals she sold the horse. Tim's shocked while Yasmeen's annoyed that Geoff spoke for her and said she wanted out of the syndicate. As Tim describes the bond he had with Tiny and how much he's going to miss him, Sally's taken aback. What will she do to make it up to Tim?
In the Rovers, Ed enjoys winding up Ken and Chesney, making out that the new owners of No.3 have ten children and a similar number of animals. As he and son James beaver away at No.3, Ken threatens to complain to the new neighbours about the noise. Meanwhile, Gemma and Chesney clash over how best to budget for the arrival of quads.
Second episode of Coronation Street tonight.
Get the latest updates, reviews and unmissable series to watch and more!
Thank you for signing up to Whattowatch. You will receive a verification email shortly.
There was a problem. Please refresh the page and try again.