Coronation Street spoilers: Sinead Osbourne dies peacefully with Daniel and Bertie by her side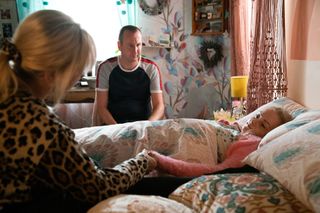 Sinead Osbourne begins to say goodbye to her friends and family
Sinead Osbourne urges Daniel to stop punishing himself and smiles at him lovingly in Friday's hour-long episode (see our TV Guide for full listings).
Daniel's deeply moved to know she's forgiven him. In a bid to appear positive, Sinead asks Daniel to fetch her some flowers with a lovely scent so she can imagine she's outside. As the day progresses Sinead makes plans with Billy for her funeral. Dr Gaddas calls on Sinead and asserts that it's too late to move her to the hospice in her fragile state.
Daniel reels and Sinead realises it's time to start saying her goodbyes. Beth confides in Tracy how she can't help but feel angry with Daniel as Sinead wakes up to find her family gathered around her bed. She takes comfort from listening to them bicker over inconsequential nonsense. With the family gone, Sinead squeezes Daniel's hand, aware her time is running out.
Sinead Osbourne passes away peacefully with Daniel and Bertie on the bed with her. Daniel lies down next to her and cries silent tears as he holds her knowing he and Bertie will have to get used to life without her.
The Tinkers and the Barlows gather in the Rovers and wait nervously for news of Sinead. As the the families share fond and amusing stories of Sinead, Beth takes a call from Daniel to inform them that she has died.
Gail returns from Thailand to find Tracy and Sally tearing a strip off Bethany. A tearful Bethany launches herself at Gail, clearly upset.
Gail steers her back to No.8 and parking herself on the carpet, assures a bemused Bethany that yoga is the way forward and she needs to find herself again.
Get the latest updates, reviews and unmissable series to watch and more!
Thank you for signing up to Whattowatch. You will receive a verification email shortly.
There was a problem. Please refresh the page and try again.