The Disaster Artist - Sky Cinema Premiere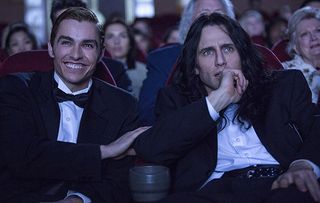 (Image credit: Warner Brothers Pictures)
James Franco gets the balance of mockery and affection just right as director and star of this hilarious comedy drama about the making of The Room, the legendary 2003 film whose gob-smacking, eye-popping, mind-boggling awfulness has won it cult success as a midnight movie favourite and earned it the sobriquet 'The Citizen Kane of Bad Movies
James Franco gets the balance of mockery and affection just right as director and star of this hilarious comedy drama about the making of The Room, the legendary 2003 film whose gob-smacking, eye-popping, mind-boggling awfulness has won it cult success as a midnight movie favourite and earned it the sobriquet 'The Citizen Kane of Bad Movies'.
Franco plays The Room's bizarre creator and star, Tommy Wiseau, an independently wealthy eccentric with obscure origins and unquenchable, delusional self-confidence. And Dave Franco (James's brother) plays Greg Sestero, the aspiring young actor who becomes Wiseau's friend and inspires him to write, direct and star in his own film.
The big joke is that Wiseau believes he is making a masterpiece, notwithstanding his total lack of experience or ability. We, however, can admire the skill with which Franco, abetted by the likes of Seth Rogen, Josh Hutcherson and Jacki Weaver, recreates The Room's hopeless ineptitude, with spot-on re-enactments of some of its most notoriously dire scenes. But the big surprise is that the decidedly odd bromance at the movie's heart should prove so touching.
Get the latest updates, reviews and unmissable series to watch and more!
Thank you for signing up to Whattowatch. You will receive a verification email shortly.
There was a problem. Please refresh the page and try again.