Doctors spoilers: Karen Hollins gives evidence in court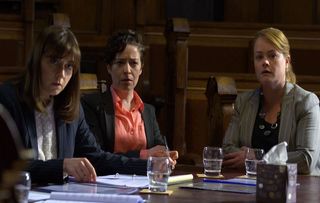 But will the surgery receptionist's speech be enough to help parents Beth and Jadie get back custody of their son, Mikey?
Karen Hollins and her husband Rob have been foster parents to six-year-old Mikey, since the boy was removed from the care of mums Jadie and Beth Taylor-Wood.
However, Karen's not convinced Jadie and Beth are to blame for accident-prone Mikey's previous injuries and is prepared to fight in favour of the couple. So it's the moment of truth as everyone gathers at the family court for the hearing which will determined Mikey's future.
Doctors Al Haskey and Emma Reid are called to give evidence in the case. And although Karen isn't initially allowed inside the court, she is eventually allowed to take to the stand and tell her side of the story and explain what Mikey's relationship with Beth and Jadie is like.
Is it possible Social Services got it all wrong and Mikey isn't in any danger from his parents? Or will the judge turn Beth and Jadie's world upside down by permanently removing Mikey from their care?
Meanwhile, back at The Mill, receptionist Valerie Pitman meets angry young patient Alex Hayman, who demands to see a male doctor.
But when Valerie tells Alex no male doctors are available, he starts to get testy. Can Valerie get to the bottom of what's troubling Alex?
Doctors continues weekdays at 1:45pm on BBC One
Get the latest updates, reviews and unmissable series to watch and more!
Thank you for signing up to Whattowatch. You will receive a verification email shortly.
There was a problem. Please refresh the page and try again.