Doctors spoilers: Sexy! It's 50 Shades Of Letherbridge!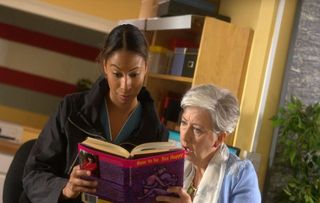 The staff of The Mill eagerly await a visit from a noted sex therapist, and then find themselves caught-up in some scandalous goings-on!
There's big excitement at The Mill as the staff get ready for the arrival of sex therapist Cordelia Smithfield in Letherbridge, who is going to use one of the surgery therapy rooms while her new office is being finished.
However, it soon becomes clear Cordelia has not been practicing what she preaches, since her marriage to her husband Richard is in trouble, and he has fallen into the arms of his work colleague, Alison Turner!
But surgery receptionist Karen Hollins, who is a long-time fan, is determined to help save Cordelia's marriage to Richard, even if it means quoting some advice from Cordelia's best-selling book!
Meanwhile, Daniel Granger and his wife Zara Carmichael are settling into life with Daniel's tweenage daughter, Izzie Torres.
Since Izzie has yet to start at her new school in Letherbridge, Zara takes her into the surgery with her. But Zara's in for a surprise when Izzie strikes up an unexpected friendship with kooky receptionist Valerie Pitman.
And Dr Al Haskey, still dealing with the withdrawal symptons of quitting smoking, is being even more grouchy than usual and kicks off at Zara, Karen and nurse Ayesha Lee.
Can Dr Jimmi Clay find a way to keep the peace before Al's angry ways drive everyone up the wall?
Doctors continues weekdays at 1:45pm on BBC One
Get the latest updates, reviews and unmissable series to watch and more!
Thank you for signing up to Whattowatch. You will receive a verification email shortly.
There was a problem. Please refresh the page and try again.