Doctors spoilers: Will the conflict course be a disaster?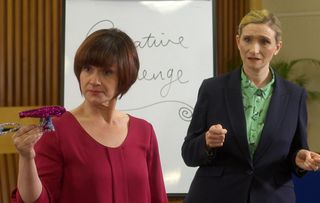 (Image credit: BBC)
Will The Mill staff learn to get along?
It's day two of the conflict course, and Su hasn't turned up - not that anyone is surprised. Al is in a great mood, as he's managed to get himself a free breakfast. As he continues to boast about his meal, Su walks in upbeat and sets everyone a task - to make a sculpture out of pipe cleaners.
Su pairs Heston and Zara together. Mrs Tembe works with Karen, Jimmi and Valerie team up, and Al and Emma make the final pair. While the task seems simple enough, Su's idea backfires dramatically, as every pair ends up in argument. Has Su's idea done more harm than good and will The Mill staff ever be able to work alongside each other without arguing?
Get the What to Watch Newsletter
The latest updates, reviews and unmissable series to watch and more!
Tobi Oredein is an award-winning women's lifestyle journalist, media entrepreneur and international public speaker based in London, who focuses on race, feminism, beauty politics & popular culture. Tobi has been commissioned by Buzzfeed, British Glamour, Grazia, Elle UK, Fader, The Debrief, The Independent, The Pool, Stylist, Vice and others. She has also interviewed public figures such as Ryan Coogler, Ava Duvernay and Sir Trevor McDonald.