Doctors spoilers: Zara Carmichael and Daniel Granger's break-up gets messy!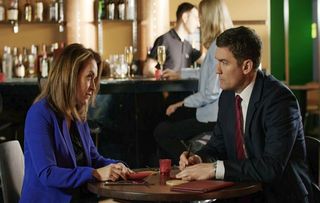 Zara and Daniel meet to discuss dividing their assets following their marriage break-up. But it's not long before one of them is branded 'money grabbing!'
Since it doesn't look like there's a chance of Zara Carmichael and Daniel Granger saving their marriage, the couple decide it's time to make their separation more official by dividing up their assets.
The doctors meet for dinner, hoping for a civil conversation about what belongs to who. But NO such luck with this competitive couple...
Daniel suggests they sell everything and split the money, without involving lawyers. However, Zara wants to keep the house for her and their son Joe to continue to live in. Zara's demands quickly anger Daniel - she can't expect him to carry on paying half the mortgage when he doesn't even live there anymore!
And after Daniel brands Zara 'manipulative and money grabbing', it looks like they may need to get lawyers involved after all!
Meanwhile, ex-Hollyoaks and Coronation Street star Tony Hirst makes a guest appearance as Inspector George Smith, who gets a shock when a homeless man, Andy, is brought in for questioning about a stabbing and turns out to be George's estranged brother, Andy, who he disowned 15 years ago...
Elsewhere in Letherbridge, Ruhma Carter gets ready to throw an Eid celebration. However, there's BIG drama at the party when Ruhma's student daughter Alia, who is already stressed-out with exams and revision, discovers her brother is planning to do a work placement with the police.
Angry Alia confronts Shak in front of their guests and demands to know why he would want to join the police when they previously tried to put him in prison over the hit and run involving Alia's ex-boyfriend, Tariq Amiri!
Everyone is shocked by Alia's outburst and when Ruhma tries to calm her daughter down, things take a SHOCK twist when Alia suddenly collapses...
Doctors continues weekdays at 1:45pm on BBC One
Get the latest updates, reviews and unmissable series to watch and more!
Thank you for signing up to Whattowatch. You will receive a verification email shortly.
There was a problem. Please refresh the page and try again.