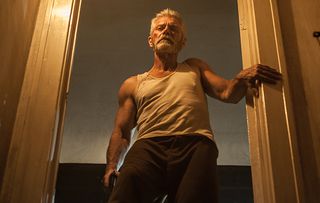 (Image credit: © 2016 CTMG, Inc. All rights re)
Suffocatingly tense, this home-invasion thriller, starring Stephen Lang, should, in the interest of the viewers' health, be retitled Don't Forget to Breathe
Suffocatingly tense, this home-invasion thriller, starring Stephen Lang, should, in the interest of the viewers' health, be retitled Don't Forget to Breathe.
Writer-director Fede Alvarez (maker of 2013's Evil Dead) has us on edge from the moment three teens (Jane Levy, Dylan Minnette and Daniel Zovatto) break into the home of Lang's blind Iraq war veteran, looking for the $300,000 reputedly stashed inside.
The 'last man standing' in his ravaged Detroit neighbourhood, Lang's grief-stricken loner is far from defenceless. And when the tables turn, so do our sympathies - though everyone here is morally compromised.
The tension cranks up, rattling our nerves with almost every move of his camera as it glides around the house, revealing dark corners and hidden secrets. And when it comes to a heart-stopping night-vision sequence, filmed in an unnervingly ghostly grey, he leaves us clutching our throats, gasping for air.
Premieres on 1 April.
Get the latest updates, reviews and unmissable series to watch and more!
Thank you for signing up to Whattowatch. You will receive a verification email shortly.
There was a problem. Please refresh the page and try again.