Elly faces an embarrassing situation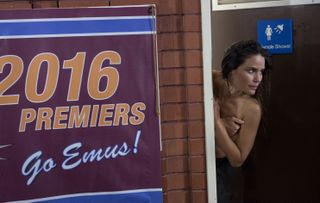 Will Elly's reputation as a teacher be in ruins?
Elly's preparing to make an important pitch at work to secure more funding for her department. She's determined to impress Susan and is extra strict on uniforms in the morning, making an enemy out of Tia. So when Yashvi spills something over Elly, she's forced to have a shower, and Tia masterminds a plan to steal her clothes! Will Elly be able to make it back to her office without being caught in the nude?
Meanwhile, Karl and Susan return from holiday and something isn't quite right between. Ben immediately notices the tension and is determined to get to the bottom their problems. What happened between the couple while on holiday? And who is to blame?
Finally, Gary is heartbroken after finding out that Terese confided in Paul about her cancer, before telling him. Xanthe tells her dad that he and Terese are meant to be, while Piper tells her mum to lean on Gary and not Paul. Will Terese cut Paul out her life for good, so she can move on with Gary? Or will she tell Gary that she still has feelings for Paul?
Get the What to Watch Newsletter
The latest updates, reviews and unmissable series to watch and more!
Tobi Oredein is an award-winning women's lifestyle journalist, media entrepreneur and international public speaker based in London, who focuses on race, feminism, beauty politics & popular culture. Tobi has been commissioned by Buzzfeed, British Glamour, Grazia, Elle UK, Fader, The Debrief, The Independent, The Pool, Stylist, Vice and others. She has also interviewed public figures such as Ryan Coogler, Ava Duvernay and Sir Trevor McDonald.