Emmerdale spoilers! Mandy Dingle and Vinny face a Dingle court!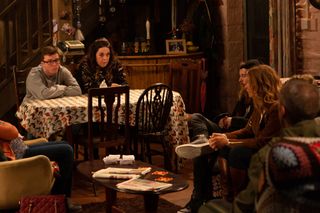 A Dingle court is called when Mandy and Vinny are found with the family's van which broke down as the pair tried to flee
Emmerdale's Dingle family force Mandy and Vinny to stand trial for their betrayal, in Tuesday's episode at 7pm (see our TV guide for full listings).
Having tried to flee Emmerdale in the Dingles' van, Mandy Dingle (Lisa Riley) and Vinny (Bradley Johnson) have broken down in the woods and are hiding out.
But when Mandy heads off to get fuel, Vinny's found by Sam (James Hooton) and Marlon (Mark Charnock).
When Mandy returns, the duo are bundled off home and forced to face a Dingle court for trying to steal Lydia's (Karen Blick) windfall cash.
At long last, Mandy explains why she and Vinny have been so desperate for money, revealing how they ran a card-counting scam in a bunch of casinos, and explaining that a thug, Terry (Rene Zagger), is after them for the dough they took.
A special flashback - only seen by us at home - will reveal Mandy and Vinny in action in the casino and also expose that someone else from the family has been secretly involved… Charity!
As Mandy and Vinny spill the beans will they tell their loved ones everything, including Charity's (Emma Atkins) involvement?
Will the Dingles go easy on her after Mandy reminds them Aaron (Danny Miller) stole from her too? And is dodgy Terry about to strike?
Get the latest updates, reviews and unmissable series to watch and more!
Thank you for signing up to Whattowatch. You will receive a verification email shortly.
There was a problem. Please refresh the page and try again.