Fantastic Beasts and Where to Find Them - ITV2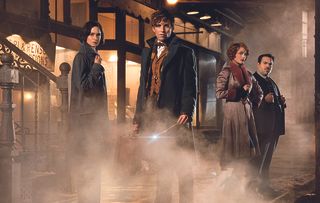 (Image credit: Jaap Buitendijk)
Harry Potter creator JK Rowling expands that world with this captivating tale, starring Eddie Redmayne and set in 1926 New York
Harry Potter creator JK Rowling expands that world with this captivating tale, starring Eddie Redmayne and set in 1926 New York.
Playing wizard Newt Scamander (purported author of the spoof Hogwart's textbook Rowling wrote in aid of Comic Relief in 2001) with bags of beguiling, diffident charm, Redmayne guards a menagerie of magical creatures. However, led by the adorably mischievous Niffler, they break loose from his suitcase, just as an extremely dangerous dark magical force is making its presence felt in New York.
Newt is soon in the thick of things, trying to recapture his escaped beasts while striving to avert even greater disaster with help from Dan Fogler's tubby factory worker Jacob, a No-Maj (as Muggles are known in America), demoted Auror Tina Goldstein (Katherine Waterston) and her bubbly mind-reading sister Queenie (Alison Sudol).
Director David Yates, maker of the last four Harry Potter films, handles all this tremendously well, pulling off moments of high-spirited comedy and episodes of peril and derring-do with dash and verve. Meanwhile, the film's evocation of a Jazz Age magical metropolis living cheek by jowl with Prohibition-era New York is thoroughly enchanting. Coleen Atwood's Oscar-winning costumes only add to the wonder.
However, it is Rowling who deserves the most kudos. Her imagination as capacious as Newt's suitcase, she displays total assurance in expanding the Harry Potter universe into a different time period and continent. The setting may be new for Rowling, but the message of tolerance underpinning the narrative is as timely as ever.
Get the What to Watch Newsletter
The latest updates, reviews and unmissable series to watch and more!