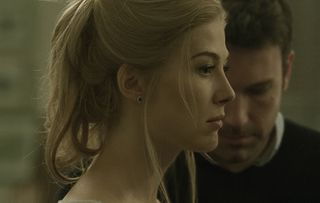 (Image credit: 20th Century Fox)
A warring married couple's dark secrets spill forth in this enjoyably slippery suspense thriller based on Gillian Flynn's best-selling novel and adapted for the screen by the author herself
A warring married couple's dark secrets spill forth in this enjoyably slippery suspense thriller based on Gillian Flynn's best-selling novel and adapted for the screen by the author herself. Rosamund Pike's golden girl Amy has gone missing - is husband Nick, played by Ben Affleck, to blame for her disappearance?
As the cunning mystery unfolds, director David Fincher tugs our sympathies this way and that while springing sudden narrative twists and traps. The riddles begin when Amy vanishes from the couple's Missouri home on the day of their fifth wedding anniversary. Signs of violence point to an abduction, but the police and the media soon have Nick pinned as the culprit. As the police build a case, we, meanwhile, have two unreliable narrators to guide us - Nick, as he goes through the purgatory of trial by 24-hour TV news; and Amy, via diary entries recounting the giddy glamour of their New York courtship and the soul-sapping torture of their life in bar-manager Nick's dull home town.
Affleck is excellent, showing a furtive side to his bland good looks, but it is Pike who steals the film with her scarily chilly portrayal of a woman whose glacial beauty hides fierce passions. Gone Girl's scathing satire of the hype and hysteria of rolling TV news and gossip-hungry chat shows is hugely enjoyable. Yet when it comes to the shocking plot and pitiless anatomy of a marriage, its pleasures are double-edged and disquieting.
Thank you for signing up to Whattowatch. You will receive a verification email shortly.
There was a problem. Please refresh the page and try again.