Grace pulls a gun on Freddie!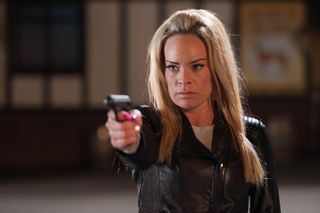 Following their fight yesterday, Joe offers Freddie an olive branch but they argue again. In The Dog car park, Freddie runs into gun-wielding Grace who wants to shoot him for killing Fraser and destroying her chances of having a proper family. At that moment, Kim, Lindsey, Trevor, Mercedes and Darren arrive. Having been told by Kim that Grace was planning to kill Freddie, Trevor talks Grace down and she drops the gun.
As Lindsey runs over to a relieved Freddie, Joe picks up the gun instead and points it at Freddie and Lindsey. Mercedes wrestles the gun from Joe's hand, but it goes off and Mercedes ends up on the floor - has she been shot? Joe drops the gun and runs away. It's soon revealed that everyone is fine and they all agree to keep quiet about what happened…
As John Paul and Ste make up, they miss Scott's calls about Sinead going into labour. When Scott turns up at Diane's flat with the news, Ste blames John Paul for the missed calls and races to the hospital.
Also, when Patrick sees Darren and Maxine kiss, he trashes his office in fury. As Theresa walks in, she persuades Patrick to go for joint custody instead, but Maxine says no and pursues the case for full custody of their daughter.
Get the latest updates, reviews and unmissable series to watch and more!
Thank you for signing up to Whattowatch. You will receive a verification email shortly.
There was a problem. Please refresh the page and try again.