The Great British Bake Off - C4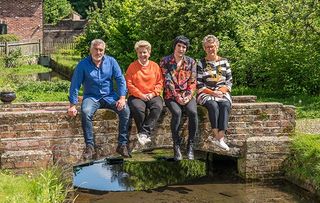 (Image credit: Mark Bourdillon / Love Productio)
It is Dessert Week and judges Prue Leith and Paul Hollywood set three sticky challenges to test the remaining nine bakers
It's Desserts Week tonight, and while that may sound like a broad theme, Paul and Prue are more exacting than ever.
The signature challenge is a tricky meringue roulade that demands concentration and calm, while the 1970s-inspired technical is a nightmare to make during a heatwave.
But it's the ambitious showstopper that really, erm, stops the show: the bakers must create a mouth-watering dessert concealed within a chocolate globe, only revealed when a yummy hot sauce is poured over the top.
With challenges like this in week four we can't wait to see what they'll be making by the time we reach the final!
TV Times caught up with Paul Hollywood, Prue Leith, Sandi Toksvig and Noel Fielding to ask them some quirky culinary questions. This is what we found out:
The most underrated ingredient in my cupboard is… Paul: Sweetcorn relish. I love it and I have it with everything. Sandi: Harissa [a hot chilli pepper paste] is really useful. You can put it in all kinds of things to make dishes more interesting.
The piece of kitchen equipment I couldn't live without is… Sandi: Paul Hollywood! [laughs] Paul: A Scotch scraper. So versatile. Prue: I couldn't do without a swivel potato peeler, that's for sure. Noel: A microwave! Sandi: Oh yes, also a dishwasher. It was invented by a woman, Josephine Cochrane, God bless her.
My perfect baking soundtrack is… Sandi: I play very loud country-and-western music. I love it because it's people singing, 'My yellow dog died and I feel terrible.' Paul: Led Zeppelin.
Something fun that happened in this series of Bake Off was… Noel: Someone sent me a beautiful psychedelic purple shirt that I'm planning to wear at the end of the series. I hunted high and low for shirts to live up to last year. Sandi: Paul invented a cocktail! It's a very good drink called a Hollywood Fizz. Paul: It's elderflower mixed with ginger ale, fresh ginger pulp and gin. It's delicious, really refreshing. Prue: We all drink it now.
If I could spend the afternoon baking with anyone it would be… Paul: Either Fanny Cradock or Prue. Or Nick Mason from Pink Floyd. He's a great baker – I want him to do Celebrity Bake Off. Prue: I'd say Paul. I thought when I came on this show that I knew something about baking and now I realise I actually know very little. He made a delicious rum Nicky last year – it's a pastry with dried fruit inside and a lot of rum. Sandi: Rum Nicky sounds like a horse I once had a bet on. Noel: I'd bake with Elvis. Or Andy Warhol – imagine just baking with Andy... Paul: Or Ronnie Corbett. I got a phone call from him once. He just wanted to ask me some questions about baking bread. I was going, 'Is this definitely Ronnie Corbett?!' Sandi: I was playing golf with Ronnie once and he started laughing. He said, 'From a distance we must look like a condiment set!'
TV Times rating: *****
Get the latest updates, reviews and unmissable series to watch and more!
Thank you for signing up to Whattowatch. You will receive a verification email shortly.
There was a problem. Please refresh the page and try again.