Hollyoaks spoilers! Adam flips out and punches Darren before sleeping with DS Roxy!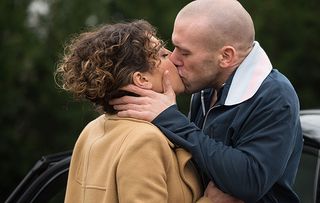 Adam goes berserk and lashes out at Darren but when he's arrested for assault by DS Roxy, things between him and the copper take a steamy turn....
Adam, now embroiled in his dad's criminal activities, starts to have flashbacks of the robbery he's done and when Darren accidentally knocks into him, a wild-eyed Adam flips out and punches him!
Darren is stunned by his violent streak and so is Maxine who's terrified that her other half seems to be morphing into his thuggish dad, Glenn.
DS Roxy is soon on the scene to arrest Adam for assault but things take a very different turn when the copper takes him to a private place and the pair end up having sex!
Elsewhere, following her fallout with Jack, a dejected Esther feels its time for a fresh start and gets ready to leave the village. Where is she planning to go and could Ruby tempt her to sunny Spain?
Meanwhile, Myra and Goldie are intrigued when they spot a pregnancy test kit in Prince's shopping basket at Price Slice.
Prince begs the nosey pair to keep quiet but when has a McQueen ever been discreet? Is the gossip about to spread like wildfire that Lily could be pregnant?
Get the latest updates, reviews and unmissable series to watch and more!
Thank you for signing up to Whattowatch. You will receive a verification email shortly.
There was a problem. Please refresh the page and try again.