Hollyoaks spoilers: Ollie Morgan does a runner as Buster Smith's trial gets underway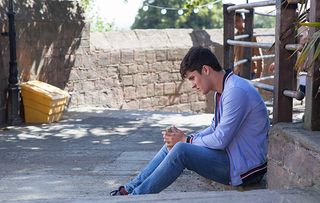 As Buster Smith's trial begins, his victim Ollie Morgan who is due to testify, is buckling under the strain and decides to flee Chester. Will anyone find him in time?
It's the first day of Buster Smith's trial but Ollie Morgan (Aedan Duckworth) who he abused, is buckling under the strain of the impending court-case.
The teen footie player, who was groomed by sports-coach Buster (Nathan Sussex), can't handle the pressure and the thought of having to testify in court and decides to flee Chester.
Darren Osborne (Ashley Taylor Dawson) and Mandy Richardson (Sarah Jayne Dunn) who are looking after Ollie while his dad Luke (Gary Lucy) is in prison, go to wake Ollie up on the morning of the trial, but are alarmed when they discover his bed is empty!
Where has Ollie gone? Will anyone find him in time and be able to convince him to go court?
Meanwhile Brody Hudson (Adam Woodward) is also struggling with the prospect of Buster's trial. Brody, who Buster also abused when he was younger, is desperate to finally get Buster banged up behind bars for his crimes but feels sick to his core every time he thinks about the manipulative abuser.
With all his bottled emotions building by the second, Brody cracks and lashes out by punching a wall.
Elsewhere, Maxine Minniver (Nikki Sanderson), who collapsed after drinking too much on New Year's Eve, starts to make a recovery and feel better and is taken off the ventilator at hospital.
Plus Sienna Blake (Anna Passey) who has recently channelled all her energy into changing her career and becoming a teacher, has her first day getting experience at Hollyoaks High. However things get off to a bad start when she catches Juliet Quinn (Niamh Blackshaw) and Imran Maalik (Ijaz Rana) fighting.
Sienna immediately chastises Imran, who has form for violent outbursts, unaware she has jumped to the wrong conclusion and it was actually manipulative Juliet, the daughter of Donna Marie, who initiated the bust-up.
Hollyoaks is shown weekdays on C4 at 6.30pm with the next episode following on E4
Get the latest updates, reviews and unmissable series to watch and more!
Thank you for signing up to Whattowatch. You will receive a verification email shortly.
There was a problem. Please refresh the page and try again.