Home and Away spoilers: Can Bella Nixon reunite Colby Thorne and Chelsea Campbell?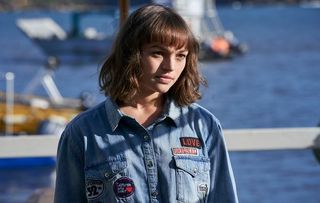 Feeling responsible for causing the bust-up between her big brother Colby and his fiancee Chelsea, Bella tries to do some damage control
After their latest bust-up, it looks like it is well and truly over between Colby Thorne and his fiancee Chelsea Campbell. But little does Colby know, but his teenage sister Bella has a secret plan to do some damage control!
Seeing how down-in-the-dumps Colby is, especially after he has to break the humiliating news his and Chelsea's wedding is officially off, Bella feels partly to blame. If Colby hadn't come looking for her, maybe none of this would have ever happened.
So Chelsea's in for a surprise when she receives a call from Bella who asks to meet, and wastes no time in taking policewoman Chelsea to task for breaking-up with Colby!
Bella's peace-making plan leads to another talk between Colby and Chelsea. Can the pair put their differences aside? Or will Chelsea go ahead with her request to transfer back to the police force in the city?
Elsewhere in the Bay, Ryder Jackson confides in his 'grumps' Alf Stewart, while Raffy Morrison asks foster mum Marilyn Chambers for advice ahead of her next date/meet-up with Ryder at the Surf Club.
The teenagers are totally in a love bubble. But will that bubble be burst when Raffy notices a missed call from their friend Coco Astoni. Coco will be back in the Bay in a week's time. How will she react to the news her ex-boyfriend Ryder and best friend Raffy are now dating?
Home and Away continues weekdays at 1:15pm and 6:00pm on Channel 5
Get the latest updates, reviews and unmissable series to watch and more!
Thank you for signing up to Whattowatch. You will receive a verification email shortly.
There was a problem. Please refresh the page and try again.