Home and Away spoilers: Can everyone pull of Ziggy's surprise party?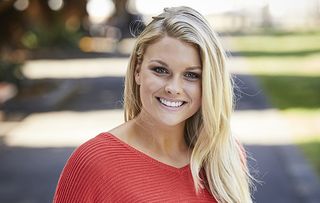 (Image credit: JEREMY GREIVE)
Will Ziggy's party be kept a secret?
Ben, Maggie and Coco are planning a surprise birthday party for Ziggy, but need an excuse to get her out of the house. Luckily, Ben has an interview and he arranges for Ziggy to help him prepare away from the house. However, with everyone acting out of character, will Ziggy find out about the surprise?
Ziggy gives Ben numerous tips on how to get through his upcoming interview, but it seems that Ziggy's help is just making Ben even more nervous. Ben starts to feel even worse about the interview when he begins to think about the financial pressure he is under. Will Ben be able to keep cool and ace his interview?
While Ben and Ziggy are out of the house, Maggie is running around like a headless chicken, trying to make the party perfect for Ziggy. In all the rushing around, Maggie strains her arm and finds another lump…
Ava is upset with Justin for how he has treated Willow. When the rest of the family arrive home, they tell Justin he was out of line and urge him to apologise for overreacting. Justin knows his family is right, but will it be too little, too late for Willow?
Finally, Mason plucks up the courage to ask Jasmine to come to Ziggy's party. Mason is over the moon when she says yes, thinking it's a date - but has he got his wires crossed?
Tobi Oredein is an award-winning women's lifestyle journalist, media entrepreneur and international public speaker based in London, who focuses on race, feminism, beauty politics & popular culture. Tobi has been commissioned by Buzzfeed, British Glamour, Grazia, Elle UK, Fader, The Debrief, The Independent, The Pool, Stylist, Vice and others. She has also interviewed public figures such as Ryan Coogler, Ava Duvernay and Sir Trevor McDonald.
Get the latest updates, reviews and unmissable series to watch and more!
Thank you for signing up to Whattowatch. You will receive a verification email shortly.
There was a problem. Please refresh the page and try again.