Home and Away Spoilers: Hunter makes a mistake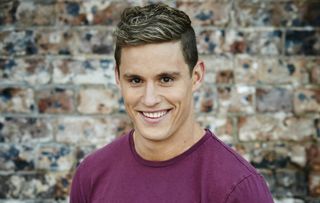 And Alf is not impressed...
Alf catches Hunter and Jennifer on the bed together and warns the pair to behave themselves. Later, Olivia bumps into the couple and decides to approach them, but Hunter is unnecessarily mean to Olivia. Irene berates him on his attitude and explains that Olivia has been seeing a therapist. Hunter apologises to Olivia, but Jennifer sees and thinks the pair looks too close for comfort. Jennifer decides to follow Hunter to his bedroom to help him forget about Olivia but Alf catches them in the act!
Meanwhile, Ben rushes to Maggie's hospital appointment, but he's late. He explains to Maggie that he was in court. How will she take Ben's confession and the fact that he didn't tell her in the first place?
Also, nothing has happened since Coco and Ryder's kiss, so Raffy takes matters into her own hands. Will Coco be happy with Raffy's match-making skills and Coco is embarrassed when Ben and Maggie try to have a sex talk with her.
Tobi Oredein is an award-winning women's lifestyle journalist, media entrepreneur and international public speaker based in London, who focuses on race, feminism, beauty politics & popular culture. Tobi has been commissioned by Buzzfeed, British Glamour, Grazia, Elle UK, Fader, The Debrief, The Independent, The Pool, Stylist, Vice and others. She has also interviewed public figures such as Ryan Coogler, Ava Duvernay and Sir Trevor McDonald.
Thank you for signing up to Whattowatch. You will receive a verification email shortly.
There was a problem. Please refresh the page and try again.