Jason confronts Robbie and Holly!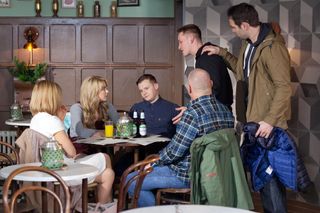 After calling his dealer for more steroids, Jason goes round to The Boarding House after Jack's call about the 'burglary' and Ste is put on the spot. Holly asks Cindy to try and get Dirk to give Robbie a chance. Dirk agrees to go for lunch with Robbie at The Hutch but, when they all arrive, Joe and Jason are there. Jason confronts Cindy, Dirk, Holly and Robbie before calling his dealer for stronger pills.
Simone supports Louis's claims that Joanne could have abducted Lisa. Zack's appalled that Lisa knew about the affair and Simone gives Louis a chance to explain – but she's crushed when she learns what Louis was doing on the day Lisa went missing. She has to put on a brave face, though, when a reporter arrives at Price Slice to talk to her about winning 'Employee of the Year'. Ste offers to help out at Price Slice but, again, goes about it the wrong way. Meanwhile, Lisa goes to see Joanne and is horrified by what she finds - a picture of Joanne with Margaret, the lady who took Lisa.
Also, Esther goes to the prison to see Kim, who asks her to visit Kath.
Get the latest updates, reviews and unmissable series to watch and more!
Thank you for signing up to Whattowatch. You will receive a verification email shortly.
There was a problem. Please refresh the page and try again.