Jett, John and Xavier say goodbye to Gina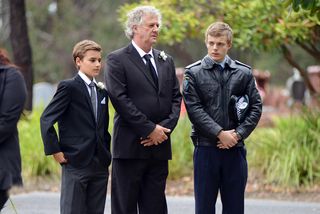 Tamara tells Brax and Heath that she is worried about all the work Casey is doing at the gym, but they're both are happy that he has his head down. Tamara agrees that maybe she's being too hard on him. However, when Casey tells her that he's not going to the funeral so he can work, Tamara is furious. Gina's funeral begins and Xavier gives a touching eulogy, telling Jett that Gina loved him. Spencer gives all the students a rose to lay on Gina's coffin. After all the roses have been laid, Xavier, John and Jett are left to say their last goodbyes - as a family.
The wake is underway and Brax tells John that from now on they eat at Angelo's for nothing, which brightens Jett's mood. When Tamara goes to find Casey at the gym, she watches as Sid tries to encourage Indi to go up to the wake and Tamara finally comprehends why Casey was so adamant about working. Xavier understands why Casey and Indi didn't come, but he asks Casey to look out for Jett. This makes Casey admit that he has been taking on everyone else's problems.
Also, Brax is having a quiet drink when he is approached by Sergeant Emerson who asks him if about his relationship with Ricky. Leaving Brax to wonder if what she's been hiding is more serious than he thought.
Get the latest updates, reviews and unmissable series to watch and more!
Thank you for signing up to Whattowatch. You will receive a verification email shortly.
There was a problem. Please refresh the page and try again.