Jimmy becomes a male escort!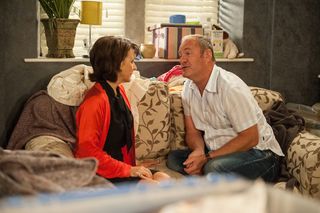 Jimmy's loving the idea of becoming a gigolo like Rodney, especially the bit about making £200 in just a few hours! Brenda, however, thinks the idea of Jimmy becoming a male escort is hilarious, which leaves him feeling humiliated. Later, when Rodney's running late for his date with a woman called Suzie, Jimmy's only too happy to step in and prove he's got what it takes to be a a gigolo, but the evening takes an unexpected turn when his client drops down dead!
After Lawrence talks to his solicitor about Connor's accusations, Robert offers to do some digging on the young man, but is his help genuine? Later, when Lawrence goes down to the police station to go over the evidence, it's clear that things are not looking good. Can Robert get him out of this mess?
With Bob due to appear in court, Harriet's desperate to get hold of missing Carly because she's the only one who can save him from staying in prison, while Bernice is uneasy around Lawrence following Connor's allegations, especially after some words of warning from Edna, and Chas worries when Aaron makes plans to spend time in London.
Get the latest updates, reviews and unmissable series to watch and more!
Thank you for signing up to Whattowatch. You will receive a verification email shortly.
There was a problem. Please refresh the page and try again.