Kat discovers she has a son!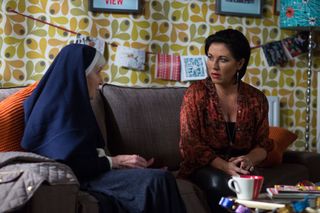 (Image credit: BBC/Jack Barnes)
Kat is pleased when Sister Ruth visits, but the nun has something on her mind. Realising it's time that Kat finally found out the truth about her past, she confesses that as well as giving birth to Zoe, Kat also had a son, who was given away.
At first refusing to believe Sister Ruth, Kat finally accepts the truth. When Sister Ruth reveals that someone else in the family knows about her son, Kat is determined to find out who has kept it a secret for all these years...
Stacey is becoming increasingly erratic, especially after discovering who her 'stalker' really is. Confiding in Kat, Stacey is surprised when Kat confesses what happened in Spain with Zoe, revealing Zoe wants nothing to do with her. When Stacey later spots Sister Ruth with Kat, it increases her paranoia as her psychosis takes hold and she jumps in a cab with baby Arthur...
Get the latest updates, reviews and unmissable series to watch and more!
Thank you for signing up to Whattowatch. You will receive a verification email shortly.
There was a problem. Please refresh the page and try again.