Madagascar 3: Europe's Most Wanted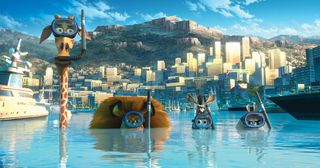 (Image credit: Photo Courtesy of DreamW)
Those New York zoo castaways are back for a third zany escapade - and it's the best in the series
Those New York zoo castaways are back for a third zany escapade - and it's the best in the series. Here, narcissistic lion Alex (voiced by Ben Stiller), irrepressibly curious zebra Marty (Chris Rock), neurotic giraffe Melman (David Schwimmer) and flirty hippo Gloria (Jada Pinkett Smith) are trying to get back home.
Hoping to hook up with their resourceful penguin and monkey chums, they splash down in Monte Carlo, but ruthless animal control cop Chantal Dubois (Frances McDormand) soon has the quartet in her sights. One botched casino heist and harum-scarum car chase later, and the friends are wanted fugitives, forced to hide out with a faded all-animal travelling circus as it criss-crosses Europe by train.
On board are some new faces, including growling knife-throwing tiger Vitaly (Bryan Cranston), trapeze-artist jaguar Gia (Jessica Chastain) and nervy sea lion Stefano (Martin Short), not to mention old favourites Julien the lemur king (Sacha Baron Cohen) and his sidekick Maurice (Cedric the Entertainer).
That's a lot of characters to juggle, but the Madagascar menagerie manage to keep the balls in the air as the action zips along, the visuals dazzle and the zippy gags flow.
Get the latest updates, reviews and unmissable series to watch and more!
Thank you for signing up to Whattowatch. You will receive a verification email shortly.
There was a problem. Please refresh the page and try again.