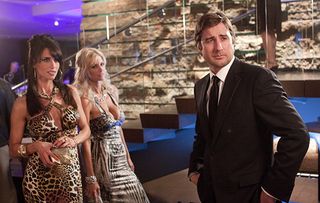 (Image credit: Photography by: Rico Torres)
Luke Wilson's upright Texas family man, Jack Harris, turns unlikely porn entrepreneur in this dark comedy about the early days of internet porn
Luke Wilson's upright Texas family man, Jack Harris, turns unlikely porn entrepreneur in this dark comedy about the early days of internet porn.
A canny problem solver, Harris steps in to help, circa 1995, after web geeks Wayne and Buck (Giovanni Ribisi and Gabriel Macht) hit upon the internet's first program for secure online credit-card transactions.
The scheme is a goldmine, but coked-up Wayne and Buck allow James Caan's sleazeball lawyer and Rade Sherbedgia's menacing Russian mobster to muscle in on their enterprise, forcing Harris to use all his wiles to extricate himself in one piece from this seedy and dangerous world.
While Wilson's wry voice-over narration guides the viewer through the film's tricky, flashback-driven plot, director and co-writer George Gallo gives the film visual flash and scuzzy energy.
Amid the enjoyably ripe supporting performances, look out for Kelsey Grammer, whose brief cameo as a gleefully two-faced politician provides the film's funniest line.
Thank you for signing up to Whattowatch. You will receive a verification email shortly.
There was a problem. Please refresh the page and try again.