Nancy helps Darren create a surprise for Maxine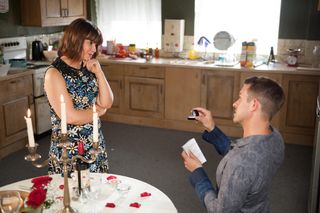 Maxine, Sienna and Nico panic when they receive a note from Patrick saying 'sorry' and then can't find him. Nico wonders whether he's tried to kill himself, and Maxine knows where to look for him. She arrives at a secluded spot and rushes to where Patrick is seemingly asleep on a bench. He slowly turns his head and tells her he can't move. Maxine helps him to the car and he asks her to take him to the police station so he can hand himself in. Meanwhile, Darren tells Nancy he's going to propose to Maxine today and she offers to help him. They decorate the Boarding House and Darren practises his speech on Nancy. However, Patrick tells Maxine he loves her and she urges him not to go to the police. Maxine gets back to the Boarding House late and Darren's surprise is ruined. He's angry when she tells him she's been with Patrick and he makes her choose who she wants to be with. When Maxine doesn't reply, Darren tells her it's over!
Elsewhere, Lockie tries to get Porsche back but she's furious when he tries to play the victim. Mercedes, John Paul and Lockie all ask Porsche for forgiveness. Reenie shoos Lockie away with a cricket bat and Pete puts his arm 'supportively' around Porsche.
Grace tells Trevor he needs to pick which child he wants – Dylan or Curtis. Trevor tells Grace that, if Dylan leaves, then he does too but Dylan makes it easy for his dad and lies that he's going to stay with Nico. Later, 'GothBoy98' tells Dylan to get revenge and make Trevor disappear…
Also, the doctor tells Jack and Frankie that Esther isn't responding to neurological tests. Later, Esther has seizure…
Get the latest updates, reviews and unmissable series to watch and more!
Thank you for signing up to Whattowatch. You will receive a verification email shortly.
There was a problem. Please refresh the page and try again.