Nicola struggles with her disability in Emmerdale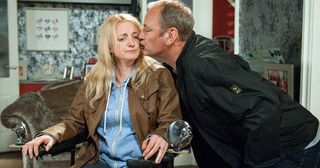 (Image credit: Andrew Boyce)
Nicola is distressed when husband Jimmy presents her with a wheelchair in Emmerdale
*Hour-long episode*
The harsh reality of having been rendered disabled since getting injured in the fire is now hitting Nicola hard. She's devastated when Jimmy presents her with a wheelchair. Needing to get close to her husband, Nicola wants to get physical but, much to her distress, Jimmy's unable to lift her upstairs to their bedroom.
While Lisa plans to host a meal at her place to welcome Bailey into the family, Zak and Joanie are stunned when they're invited, too. But before one of the most awkward evenings ever takes place, Charity sets a plan in motion to try to find out if Doc Bailey is a man who's easily swayed by a pretty lady. Will Bailey fall into Charity's honey trap and prove he's a serial cheat? Later, Charity's suspicions mount once more when she clocks Belle's pregnancy test and learns the not-pregnant teenager is planning to fake a miscarriage to get out of her baby lie!
When Lawrence collapses in the café Bernice is shocked to hear, from Andy, that her husband's been taking some dodgy form of Viagra he bought online. Lawrence is in a tough spot when Bernice demands to know if he's in love with Ronnie. Later, Bernice calls Ronnie in secret, with a cunning plan in mind.
Get the latest updates, reviews and unmissable series to watch and more!
Thank you for signing up to Whattowatch. You will receive a verification email shortly.
There was a problem. Please refresh the page and try again.