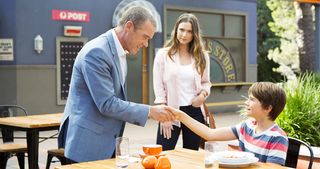 When Amy and her son Jimmy arrive, Paul is stunned – he has a grandson. Amy thinks he can be a good grandad and warns him not to blow it. However, when Paul unwisely relates the story of the well to Jimmy, Amy abruptly terminates the meeting. She later explains to Naomi that she fears Paul may overindulge Jimmy. When visiting Sonya, Amy goes to fetch Jimmy from outside, only to discover he's missing!
Lauren tells Paige that Matt was one of only two men she's ever loved and Brad was the other. Later, Terese discovers Brad coming back with Paige from the Turner House. She's frosty towards him, having discovered Lauren was home after all. Seeing Brad so miserable with Terese, Paige calls her brother Ethan and tells him she thinks her dad would be happier with Lauren.
Also, Tyler confesses to Nate he has real feelings for Paige and later steals Karl's prescription pad to get more meds. When Brennan reveals he and Paige nearly kissed, Tyler tells him to butt out of his life. Later, Nate confronts Tyler telling him to fix his problems and fast!
Get the latest updates, reviews and unmissable series to watch and more!
Thank you for signing up to Whattowatch. You will receive a verification email shortly.
There was a problem. Please refresh the page and try again.