Pete puts the moves on Cleo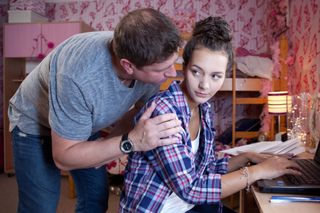 Reenie smashes Derek's pocket watch and orders him to leave by the end of the day. Pete calms Reenie down and she decides to let Derek stay, until Nana reveals they're engaged! Reenie makes Nana choose between her and Derek and loses. Nana asks Reenie if she'll give them her blessing. Meanwhile, Pete offers to get rid of Reenie for the night, so that him and Cleo can have some alone time. He's frustrated when Reenie wants to stay in and, when Cleo rejects his advances, he deletes the essay she's been working on. Later, Reenie watches Derek sleep on the sofa and picks up a cushion…
Elsewhere, Leela tries to seduce Ziggy again, desperate to get pregnant and cover her lie. However, he can't forgive her for lying about Cameron killing Sam and Danny. Tegan persuades Ziggy to make an effort with Leela, so he plans a romantic evening with Leela. The mood sours, though, when Freddie finds a prison visiting order for Leela from Cameron.
Also, Lindsey gives Freddie five minutes to explain himself and, as they walk into the living room mid-argument, they're faced with Mercedes and Joe. Mercedes urges Lindsey to believe nothing happened - Freddie only tried to kiss her as he was drunk. Lindsey decides to give Freddie another chance. Kim, however, promises Freddie she'll come between him and Lindsey.
Get the latest updates, reviews and unmissable series to watch and more!
Thank you for signing up to Whattowatch. You will receive a verification email shortly.
There was a problem. Please refresh the page and try again.