Phoebe will have to fight Tess for Dom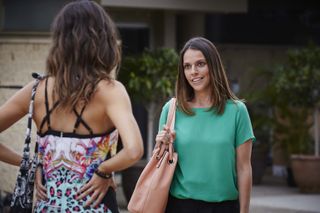 Phoebe realises she will always play second fiddle to Tess in Home and Away
Kat is thrown by Andy's confession and before he is questioned formally, she asks him to tell the truth. Ash doesn't listen and admits to Charlotte and Jake's murder. Riddled with guilt, Josh tells Evelyn that he is going to tell the truth, but she changes his mind and he agrees to stay silent.
Tori tells her brothers that they need to get jobs. Mason has arranged to carry on his medical studies at a nearby university, while Justin heads to the garage. However, he walks out of the garage when he realises Ash owns the place. Meanwhile, Brody and Mason head to The Diner and when Brody criticises the food, Leah tells them to leave.
Dom tells Phoebe he still loves Tess, but wants to try and his relationship with Phoebe work. While Phoebe is touched by the gesture, she realises that Dom should try and make his marriage work for his daughter. After telling Dom their relationship is over, Phoebe gets drunk and sleeps with Justin.
Get the latest updates, reviews and unmissable series to watch and more!
Thank you for signing up to Whattowatch. You will receive a verification email shortly.
There was a problem. Please refresh the page and try again.