Royals on the Frontline – Yesterday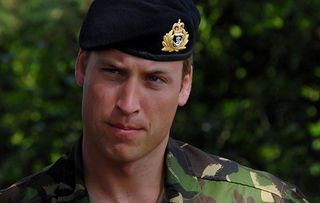 (Image credit: LA(Phot) Alex Cave)
New three-part documentary Royals on the Frontline explores how members of the Royal Family have upheld a tradition of military service
New three-part documentary Royals on the Frontline explores how members of the Royal Family have upheld a tradition of military service
The close links between Britain's monarchy and the military go back centuries.
And as the new three-part series Royals on the Frontline reveals, three generations of the current Royal Family have upheld that tradition by doing their bit for King, Queen and country.
Queen Elizabeth II, who is Commander-in-Chief of the British Armed Forces, Prince Philip and their sons and grandsons have all served.
Prince Harry, or 'Officer Cadet Wales', was enrolled at Sandhurst in 2005 and was commissioned as a second lieutenant in the Household Cavalry.
He was deployed twice to Helmand during the war in Afghanistan.
His first tour ended early when his location was leaked, and he returned in 2012.
After graduating from the University of St Andrews, Prince William (pictured top) went to Sandhurst and was commissioned as an officer in the Army, joining the Blues and Royals in 2007.
After training with the RAF and the Navy, he served in the RAF air-sea rescue service and worked as an air ambulance pilot before taking on royal duties full-time in 2017.
But the series starts with the royal with the most impressive military record – Prince Philip.
While he served in the Navy during World War Two, heir to the throne Princess Elizabeth was reluctantly allowed to join the Auxiliary Training Service as an ambulance driver.
It was in her ATS uniform that she went unnoticed, with sister Margaret, among the crowds outside Buckingham Palace on VE Day.
The series also includes Royal and military experts as well as archive interview footage of the Duke of Edinburgh talking about the war.
'Philip's war was character-building,' says naval historian Professor Eric Grove.
'It was a very good background for someone who is going to face a lot of emotional stress and strain in their later life.'
TV Times rating: ***
Get the latest updates, reviews and unmissable series to watch and more!
Thank you for signing up to Whattowatch. You will receive a verification email shortly.
There was a problem. Please refresh the page and try again.